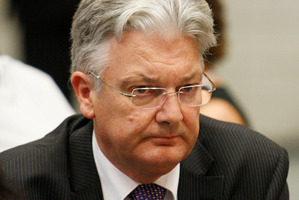 One of the problems with world-leading legislation is that it can open a Pandora's box. So it is with Peter Dunne's plan for a government-approved legal-high industry.
The Associate Health Minister's new regime for party pills and fake cannabis, due to be in place in about a year, will require makers to prove their products are "low risk" before they can be put on the market. The complication lies in exactly how that level of safety will be defined, and whether it should be aligned with existing recreational drugs, most notably alcohol.
The Ministry of Health's initial impulse seems to be that such a link would be untenable because of the substantial harm that alcohol can cause. Products such as Kronic would have to be proven to be less damaging.
But setting the bar for approval in that manner would inevitably attract well-merited accusations of hypocrisy. It would place alcohol, the recreational drug of choice for most adults, on a pedestal. Party pills and fake cannabis, which are more popular with youth, would not have its advantages even though they caused less harm.
According to the Ministry of Health, it would be a "hard sell" to align the safety tolerance factor for these drugs with alcohol. That reflects the historic role of alcohol as the drug of choice down through the centuries and the fact that for much of that time, society has chosen to minimise the damage it causes. It has never been linked with other drugs.
Under the regime proposed by Mr Dunne there is, however, no rational reason for continuing to do this. If it is to be fair and reasonable, the safety threshold must encompass all recreational drugs.
Health professionals are right when they suggest that allowing the sale of alcohol while ruling out less damaging legal highs would be farcical. If anything, this would imply that a stricter safety threshold should be applied to the content of alcohol. As the limited consumption of low-alcohol beer shows, that is not something many people would welcome.
The physical and mental damage caused by party drugs increasingly alarmed those in the health sector before Mr Dunne finally acted last year to halt the uncontrolled sale of untested products. Hospital emergency departments were reporting symptoms far more serious than the usual side-effects of nausea, lack of appetite and dehydration.
The associate minister's response quite rightly puts the onus of safety on manufacturers. They will pay up to $2 million to have their substance proved "low risk" in clinical trials that could take up to two years. They are also likely to face advertising and sales restrictions similar to those on liquor. If the two recreational drugs are to be linked in that way, it becomes even odder not to align their safety thresholds.
The Drug Foundation's executive director, Ross Bell, says that, despite the inconsistency in the Ministry of Health's proposed approach, political realities are likely to rule out a "one-size-fits-all" drug policy. That would be unfortunate, especially in the message it would send to young people.
The Government has shown much initiative and intelligence in opting to control the legal-high industry, rather than the easier option of prohibition. It would ruin much of that good work if it ruled that party pills and synthetic cannabis products must jump a higher hurdle than alcohol.