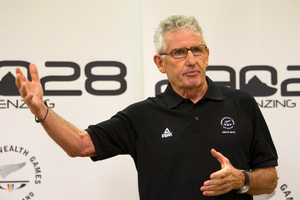 One of the enduring mysteries of the administrative error which surrounded Valerie Adams' efforts at the London Olympics is the attitude of those who shrugged, said she'd been out-performed anyway and who exhorted Adams and others to "move on".
What an odious phrase. "Moving on" has become New Zealand's panacea, a placebo which allows us to employ an unhealthy amount of indifference to issues that need to be addressed; we use it as a shield in the great torpor of modern life - so we don't have to get too involved.
Something wrong? Move on. Has there been an injustice? Move on. Should something be done? Nah, move on, get over yourselves - take a chill pill; the giant aspirin of ennui. It is the ultimate refuge of the unmotivated.
Apologists say a silver medal is an achievement in itself and that sometimes the great energy source that fuels champions like Adams just isn't there. Horse hockey.
Adams was so upset afterwards because she so badly wanted to win. Her whole being was devoted to the golden gong.
It took in four years of her life, two coaches and one marriage. She is an intense, committed individual.
She doesn't leave things to chance. She likes to line them all up and then, as in one of her favourite sayings, likes to "smack the crap out of it".
We must make one significant disclaimer. No one can know whether the administrative error that could have barred Adams from competing prevented her from winning gold. Nadzeya Ostapchuk of Belarus might have beaten her anyway, such was the margin of victory. Fair enough. It is unmeasurable, intangible, indefinable. We will never know for certain.
That said, anyone who has been a top athlete or been around them and who knows the commitment and intensity of champions will know how even a seemingly simple thing can tear the fragile fabric of a top athlete's state of mind.
Remember Rod Dixon and the shoes? The 5000m runner was at the 1978 Edmonton Commonwealth Games and readying himself for the start of his race when he realised someone had stolen his bag, containing his race shoes.
In a panic, he scratched around and borrowed a pair of shoes - which were never going to fit as snugly as the pair made specially for him.
With his mind swirling, his confidence punctured and his ordered world dishevelled, Dixon ran - and finished seventh in a race in which he was supposed to prosper.
Okay, it can be argued that shoes had a far more direct application to Dixon's mental state than an admin error on Adams'. But the point remains - scramble the mind and the athletic focus also gets scrambled.
There will be those, no doubt, who think Adams should have stopped being a big sook. However, as our story today shows (see p75), this was the mistake that came back to bite her at the worst possible time.
No matter the support he or she receives, a track and field athlete is ultimately alone. If they have nothing else to think about, they can focus the explosive intensity of their body and mind on their event. But if the poison worm of doubt wriggles into their minds, the effect can be devastating and sometimes far out of proportion to the actual problem.
We will likely never know - Adams isn't talking and Ostapchuk pleaded a lack of English when we spoke to her - but something seemed to have diminished Adams and enlarged Ostapchuk's confidence.
Consider the evidence. Adams turned up at the shot put clearly out of sorts. The first indicator was her game face.
Usually wearing a darkened frown that would frighten small kids and make Sir Colin Meads take a backward step, the imposing Adams instead looked distracted; vulnerable; one observer even called her "wild-eyed". Her first put was 18 metres - from a woman who consistently sends the shot out 19m-20m before she properly wakes up in the morning. It's like Usain Bolt running 12s in the 100m heats.
The Herald on Sunday understands that, in training in her shut-down mode before the Games, she was throwing distances further than Ostapchuk did to claim the gold in London. That leads to the inevitable question: what went wrong?
THIS IS the final Olympic or Commonwealth Games for current chef de mission Dave Currie - and his role in "Errorgate" may have tarnished his chef de mission legacy.
The decision to name Raylene Bates as the person who made the error has gone down poorly with many Kiwis, who tend to feel for the underdog. Even if Bates had asked for her name to be released, many expect the boss to protect the staff; to earn "the big bucks" by taking the big issues on big shoulders.
Currie may well feel aggrieved by that - he has been exhorted to be more open in the past by those, including this writer, who felt he had a natural inclination to cover things up as opposed to make them transparent. An example was the Liz Williams incident at the Melbourne Commonwealth Games in 2006. Only when a local newspaper revealed there had been an incident involving New Zealand cyclists did Currie front a press conference outside the Games village. Currie said at the time that he would not term it an "incident" and that cyclist Liz Williams had made no complaint.
It took a Herald On Sunday investigation to show, some months later, that Williams had been urinated on and forced to partly undress by cycling team colleagues but decided not to take any action because her team-mates might have faced a jail sentence.
Currie also came under fire at the Delhi Commonwealth Games in 2010 when he revealed that the New Zealand village lodgings were sub-standard and covered in dog excrement. Only problem was, Currie had made several trips up there before and had returned with modest noises of praise and support for the job India was doing. It turned out he was shown a model tower, not the ones the Kiwi athletes were actually going to be living in.
Now Currie's introduction of Bates may have been transparent but looked self-serving to many on the outside.
But ... we can always "move on".