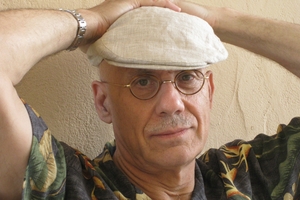 I suppose this is as good a time as any to admit that the photo accompanying my byline wasn't taken last week. Or last year, for that matter.
This week I've been the performing seal at various public library events, as part of NZ Book Month and to promote my new novel Death on Demand.
The promotional fliers had a photo of an even earlier vintage, and I sometimes had the impression that not everyone in the audience was convinced the person in the photo and the person delivering the spiel were one and the same.
Life and sports coaches tell us we have to turn negatives into positives. That's easier said than done in this situation, given that the public-library demographic might not regard the ageing process as a laughing matter.
I found myself envying a Welsh uncle, one of those amateur inventors who spend their spare time in their sheds or basements in a quest to create a light bulb that glows for 100 years, or a time-travel machine.
In a moment of absent-mindedness, to which dreamers and eccentrics are prone, he put the wrong plug in the wrong socket and briefly channelled a fair chunk of the South Wales electricity supply.
When my uncle returned from La-la land, he discovered that the hair on one side of his head had turned snow white, as had half his moustache.
It's hard to think of a better opening line ice-breaker when called upon to address an audience - many of whom have the wary demeanour of people who expect to be bored or offended - than, "You might've noticed I have two-tone hair. Well, thereby hangs a tale ..."
It's difficult to talk about a work of fiction which your audience hasn't read. Crime fiction presents an extra challenge since the more of the story you reveal, the more you risk spoiling it for the reader.
Non-fiction is an easier sell. If you've written about a real person or event or are giving advice about, say, how to bring up children, the audience has a frame of reference.
They might not know as much about the subject as you do but they know something, and they're probably there because they want to know more.
It's easier for the public and media to latch on to the novelist than the novel, so a compelling personal narrative becomes a huge asset.
A prime example is Jeffrey Archer, who probably has trouble remembering how many fortunes he's made and lost, how many scrapes he's got into, and how many times he's been exposed for behaving in a manner unbecoming of a member of the House of Lords.
After encountering the young Archer in the mid-1960s, Beatles drummer Ringo Starr described him as "the sort of bloke who'd bottle your piss and sell it".
Another is the American crime writer James Ellroy, who makes no bones about the fact that his biggest break was his mother getting murdered when he was 10-years-old. Her killer was never caught.
According to the yarn that Ellroy has weaved for 1000 interviewers, he drifted into a sordid, self-destructive existence of drugs, drink and petty crime.
Salvation came in the realisation that he could keep his demons at bay, and make a handsome living, by turning his dark obsessions of sex, violence, power and corruption into riveting crime novels. The ultimate example, perhaps, of every cloud having a silver lining.
The "story", such as it is, with Death on Demand is that it features the return, after a 15-year hiatus interrupted only by a cameo appearance in a serial which appeared in this newspaper, of the Maori detective Tito Ihaka.
Rather than try to talk about the book itself, I've been able to address the gratifying resentment over his long sabbatical and curiosity about why I've decided to bring him back.
Historians like to interpret events in terms of inexorable historical forces and tides in human affairs, but sometimes Murphy's Law might be more to the point.
For instance, it appears that the entire British Cabinet was sloshed to the eyeballs when they decided to embark on the Crimean War.
In this instance there are a couple of ways of looking at it.
I could put it down to wanting to try writing different sorts of books and not going back to Ihaka until I'd come up with a story that reflected what age, experience and changed circumstances had done to us both.
Or I could say that I needed a bit of a break from him. I got sidetracked by other projects, life got in the way and suddenly it was 15 years later. I'm not sure which is closer to the truth.