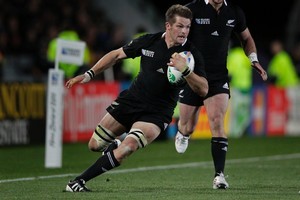 They came, they saw, we conquered.
After years of choking, weeks of partying, hours of waiting and final minutes of high stress, it's all over. Richie is king, the All Blacks are gods and Ted will go down as the greatest coach in New Zealand rugby history.
The Rugby World Cup final was an absolute beauty, the French stepped up and the All Blacks held strong.
Both teams can be commended. The French produced their best game of the tournament and New Zealand showed great fortitude and passion, refusing to relinquish the ultimate prize.
I was fortunate to finish the tournament in the same place I started it, at the VIP lounge at Eden Park. There among rugby aficionados, princes of principalities, captains of industry and heads of state, the general consensus - apart from among the French supporters - was an All Black victory.
The cup tournament has been a huge success on many levels and we have shown the world how to embrace every aspect of a sporting spectacular such as this one. The structure has been sterling and the administration superb and I hope everyone who deserves it gets a knighthood.
However, it's those people who gave their time freely to assist the tournament organisers that stand out to me.
Dressed in brilliant turquoise, more than 6000 volunteers have been unconditional in spirit and with their time directing and sharing, informing and caring for locals and visitors alike to ensure everyone has the best possible time ever.
One of the coaches commented that the volunteers' friendly and helpful demeanour made the tournament so much better.
At the beginning of the World Cup I said Richie and the boys were going to win the tournament not because of their outstanding athleticism and not because they were the best team in the world. It was simply our time.
"We are the champions."