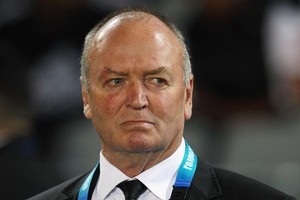 Most of us figured the World Cup reign of King Henry was over in Cardiff in 2007, just as John Hart had expired there eight years earlier.
Graham Henry's All Blacks had crashed out of the Rugby World Cup against France in an arena where he cut his test-coaching teeth with Wales.
When referee Wayne Barnes blew fulltime on the nightmare, Henry, Steve Hansen, Wayne Smith and campaign manager Sir Brian Lochore glumly shook hands in the stand and disappeared.
Hours later, as for many wandering away from the Millennium Stadium, it was difficult to take it all in. It was tough enough negotiating the flotsam and jetsam that inhabit Cardiff after tests, the mountains of rubbish in Chip Alley and bodies which have been liberally doused in drink.
The questions were endless, the answers, as the All Blacks discovered, far fewer.
It was much the same in 1994 when the French invaded Eden Park and with a late "try from the end of the earth" sank Laurie Mains and his All Blacks.
The coach's tenure had the wobbles, his teams had lost three consecutive tests with a series against the Springboks to run.
Mains and Henry both survived New Zealand Rugby Union inquiries into their coaching futures.
Mains took the All Blacks through to 1995 and, but for the food-poisoning events in a World Cup conclusion of even greater drama, might have claimed a Webb Ellis Cup to match 1987.
Henry has carried on too, tentatively for a start but soon becoming once more the combative, super-detailed technician.
Now he meets France again, this time in an arena where the All Blacks have not lost since that day in 1994 when Jean-Luc Sadourny scored the memorable winner.
Emile Ntamack played that day and is now an assistant coach, centre Philippe Sella and tighthead prop Christian Califano are at this tournament for French television.
John Kirwan coaches Japan, Jonah Lomu, Frank Bunce, Matthew Cooper, Ian Jones, Zinzan Brooke, Richard Loe and Sean Fitzpatrick all have work as ambassadors or commentators during the seventh global event.
This is Henry's 99th test coaching the All Blacks. He had another 34 internationals in charge of Wales and three with the Lions.
He's been there and done that, showing great longevity in the game and a strong record - but one missing the Webb Ellis Cup, which defines great teams and coaching excellence in the modern era.
Four years ago, France stymied that bid. Henry has a second chance as All Black coach to net the prize - and tonight he can get a measure of tournament revenge.