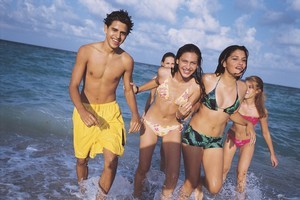 Slowly but surely, it's getting warmer. Winter is creeping away, though there is more cold mischief in it yet, you'd imagine. But it is getting warmer. The sun offers more than a thin gruel of light. Our world is turning again towards the heat of its captive explosion. You can feel it in the sky and on your skin and in your bones. There's a soft edge to the air, an excitement in the grass and the stirring of things beneath the ground. The beginning is beginning. The sap is rising, in the world and in ourselves.
Next week will be the start of spring. Just the official start, mind. The real spring will come when it chooses. But it will be soon. Like a concert in a country hall, the show always starts more or less on time.
Then we'll be eating icecreams, big scoops and chocolate dips, and taking off our shirts. For some, this will be no casual thing. Such folk want to be seen only at their best, no flab or sag or droopy bits on show, and they will prepare carefully for the day of revelation.
As the frosts retreat, girls are starting to worry about their diets and boys about their abs and vain people are spending even more time in the gym, straining and sweating and grunting in the bulky machines of an effortless age, so they can advertise their bodies on the beach. It's a primal thing, this, however we might explain it. We're hard-wired to mate and spring is mating season, even now, when our science has thwarted nature and made the act an end in itself.
In theory, none of this should matter - or other things should matter rather more.
Libya, for example, its promise and its peril, or the vexed question of what we are entitled to pay ourselves without being deemed a tax evader.
Such things are important, and others besides, not least amongst them, Wednesday's earthquake in Washington and yesterday's in Peru. Perhaps the whole Pacific plate is moving. There was that massive tsunami in Indonesia, the first earthquake in Christchurch - almost a year ago - then another in February, a catastrophe in Japan and now tremors in North and South America. Perhaps this portends some great tectonic uprising. Perhaps, along with the predictable coming of spring, the world has something more violently unpredictable in store.
Perhaps some end is nigh.
Then we must eat, drink and be merry. While we can.
Best we enjoy the spring that's coming and gather our rosebuds where we may. At least, for a time, we won't need to find our heat elsewhere, in Bali or Fiji or beneath the cream towers of the Gold Coast. We'll have our own heat here and it will stay as long as the world permits and the warm waves will be back on the beaches we have been to before. Flowers will tease us with their smells, not as much as they do the bees, but enough to make us want to dive into them and swim in the scent.
Things will be good. They always are when the sun is on your back and the day lingers long in the night.
Ever since we came to some awareness of ourselves, people have felt the stirring of spring. Thousands of years ago, when we had nothing but mud and the skins of dead animals to shield us from winter, we built monuments aligned to the sky to reassure ourselves, when the sun rose between the stones, that our sacrifices had worked and the world would do as we wished.
It won't, of course. It never has. It will get hotter or colder as the careless laws of the universe decree. It will shake when it shakes and be still in-between. It will enable our pleasures and take them from us without malice or intent.
Our world is a contrary host, ordered and disorderly, predictable and random, a ball in space that sustains us but is always beyond our control.
So when the vagaries of its orbit give us the seasons in sequence and our warming on cue, we should honour that gift as the old tribes did. We should stage a merry revel. Because every spring is good but this one more than most. The Rugby World Cup is coming and it will surely be the party of the century (at least to date) and we should win it and we will win it (say it often enough and it will come true) and then, at Christmas, David and Judith are coming over from Canada, with Jeanne, who's still young enough to live in an imaginary world where everything's possible. The prescriptions of reason haven't captured her yet. Long may it be so. And for those of us who fear we are lost to the dream and shrunk by the limits of logic, there is still this consolation - we are on the cusp of the best time we have to live and laugh and be a child again.