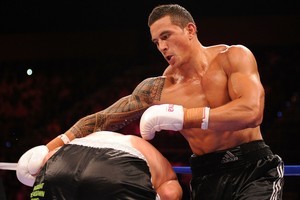 The Crusaders were running on empty in Bloemfontein yesterday morning and if they've got any sense, or any say in the matter, they'll be telling Sonny Bill Williams to forget about his June 5 boxing bout.
After Williams failed to appear for the second half during the loss to the Cheetahs because of what is being described as a minor knee knock, you also wondered if he was now putting his sporadic boxing career ahead of rugby.
Okay, there was some injury, but his departure was hardly an example of the do-or-die mentality we see on our television screens every day - in the ubiquitous, myth-making All Black-laden advertisements, that is.
SBW hardly raised a sweat, and not because of whatever he sprays under his arms. Coach Todd Blackadder said there was no major injury, that SBW was just "too sore" with deep bruising.
Not exactly the stuff of legends, nor of rugby league - the tough sport that gave the world SBW.
No self-respecting NRL first grader would dare depart because they were "too sore".
Not exactly the stuff of Colin Meads or Buck Shelford or Tana Umaga ... nor Canterbury rugby's "die-for-the-cause" legend either.
Tall tales are wagging the dog, and the Crusaders would likely need a lawyer before they could ask Williams to do anything against the extensive small print on his New Zealand Rugby Union contract. So box on SBW.
Combining a world-class rugby career with the dubious world of pro boxing was ridiculous in the first place - the serious injury risk this invites is bordering on negligence.
Now that Williams has dipped his knee into the Crusaders' casualty ward, the idea that he should continue with his "charity" bout in Auckland is bizarre.
And the Crusaders are hardly in a position where they can offer any charity - they need all hands, and dodgy knees, on deck.
The seven-time champions are in some trouble - their arduous travel schedule and freakish injury toll has left them vulnerable in a tough run home.
Three of their last four games were scheduled for Christchurch before the earthquake struck. Instead, they play the Chiefs in Napier on Saturday, then the Reds in Brisbane before finishing against the Blues in Timaru and the Hurricanes in Wellington. Sonny Bill will top his own boxing bill against the 43-year-old Toppling Tongan Alipate Liava'a in Auckland between the Brisbane and Timaru matches.
If Sonny Bill's knee problem was bad enough to prevent him completing yesterday's match, then it can't be considered good enough for boxing training and thus a bout in three weeks time.
Sonny Bill's hundred-grand gesture towards the Canterbury earthquake appeal is noble, but this boxing bounty of $100,000 is loose change that won't be missed against the cost of such a massive project.
Canterbury would take another title over the cheque any day.
And let's face it, the earthquake appeal provided a convenient excuse for the obsessive boxing hobbyist to get back in a ring during the middle of the rugby season, while also discouraging any criticism.
There is a nice symmetry to this tangle. As the Crusaders seek an eighth Super title, SBW's next boxing opponent is on the verge of an eighth-straight loss. Oh, the mysteries of sport.
A central-slash-side issue is this: who exactly runs New Zealand rugby ... do the Crusaders have any say, or are they a branch office of the NZRU?
Sonny Bill has yet to come to grips with the nuances and overall requirements of rugby, despite his startling abilities.
At this point in the World Cup year, rugby - his chief wage provider - is the game he should be fully focused on, along with minimising fatigue and injury risk.
Many happy years of boxing lie ahead if he wants - 18 of them, to be precise, should he last as superbly as his next opponent.
WEEKEND WINNER
Ian Foster's Chiefs, storming home - too late - as usual.
WHAT TO WATCH
The Northern Mystics will attempt to break Australia's stranglehold on the transtasman netball title when they play the Firebirds in Queensland on Sunday48 HOURS: Crusader fails to appear for second half after a 'minor knee knock'