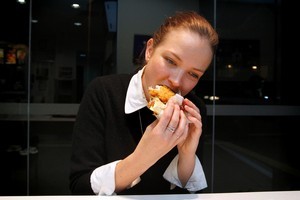 An open letter to the Editor of the Harold
Exalted Excellence (from whom effulgence beams),
Long have we romped in the corridors of power and caroused in the bear pits of media, heedless of propriety or reputation. It has been a good innings, great leader, a yabba-dabba-doo time.
We have loosened the corsets of rectitude and drained shock horror's inky cup. Many's the jape we've shared, your grace, two tousle-haired scribes, Tim Sawyer and Hick Finn, gleefully dropping frogs down the britches of the self-inflated.
And much fun it has been, a glorious romp, a rampant revel. We have left no turd unstoned, no secret unexposed. We have made a beeline for the headline every time, without a second thought.
But, alas, your highness, it's got to stop.
As the Friesian said to the Jersey,
"Our wheys must part."
We can't go on mooting like this. Disturbing news has reached me. News that requires a complete rethink of our roles and responsibilities, sir.
It turns out that the Southern Cross Healthcare Group have been doing surveys, sir. And the news is not good. It turns out that Aucklanders are stressed beyond imagining, sir, fraught, tense, pressured and perplexed.
Thirty-two per cent of Super Citizens are thus indisposed. They may be hanging on to the jockstrap of sanity, sir, but their grip is feeble - and weakening by the hour.
And there is worse news yet in the Southern Cross survey. Aucklanders' work-life balance is a mess, your eminence. In fact, their work-life balance is so unbalanced it makes Titewhai Harawira look like a vision of moderation - the kuia who cares, as that famous freedom fighter, Hone Harosama, might say.
And because they're so stressed and unbalanced on the work-life front, Aucklanders are spurning fruit and vege and scoffing more takeaways than folk elsewhere; a Double Down in the heart department, surely, with cholesterol and constipation looming as scourges for the arteries and bowels of tomorrow.
About the only thing Aucklanders aren't doing is drinking - or not as much as they do in Wellington.
Well, sir, we both know why people drink in Wellington. Because it's there. What's more, it's safe to assume that if Aucklanders aren't drinking it's only because you can't sip and snort at the same time. Cocaine is the cocktail of choice in Grey Lynn, sir. Reefers rule in Remuera.
As for Titirangi, well, the less said the better. But here's the rub, sir. I blame us. This catalogue of calamities hasn't just grown, like a behavioural Topsy. It is a manufactured thing, sir, and, what's worse, it's our manufactured thing. We have done this. It's our fault. Ignoring the effect on the Harold's fragile readers, we have relentlessly pursued the awful and aberrant. Now Auckland's paying the price.
Imagine if you will, sir. It's morning. The sun is shining. We are in Pakuranga, in the bedroom of Mr and Mrs X, who have no inkling of how stressed and unbalanced they are. They think all is well. And today it is. Beneath a rumpled sheet, we see Mr X - a senior executive in Team McMillan BMW's Donations Division - contentedly combing the hairs on his chest.
Mrs X returns to the bedchamber, wearing little more than a smile as she recalls their night of conjugal bliss. On the tray she carries are Mr X's breakfast and today's edition of the Harold. As he bites into his reheated Double Down "no unnecessary bits, just chicken and bacon and goodness" Mr X opens the paper, only to find, across the front page: Brash confession - "I am Helen Clark's love child"
Desperate to restore his equilibrium, Mr X turns to Page 3: New research - life causes death closely followed by Al-Qaeda threatens more prime time cooking shows and Ring predicts tsunami coming - after giant eruption
Instantly, his stress levels soar. He snaps at his wife. She gets a job and becomes unbalanced. They turn to takeaways for consolation. Someone suggests they should move to Wellington so they can drink more.
We've caused this, sir. We are to blame. We are the merchants of stress and bearers of bad tidings. It must stop. Let's forget about deadlines and focus on lifelines, treat the news as medication, stress relief, a public health initiative. We need stories to gladden the heart, sir. More gain, less pain.
Make it up, if we must. But let's make the commitment.
Titewhai Harawira snogs Pita Sharples; outbreak of niceness in Act Party. More of that, sir. Less of the other. $1,000,000 for each of us - English says, "what the hell, you deserve it" It may not be true, but it will cheer people up. BROCCOLI IS THE NEW VIAGRA.
Try it, sir. Not broccoli, you don't need to, but the new approach. Do it, sir. For the people. For Auckland.
Yours in endless awe,
Hick Finn