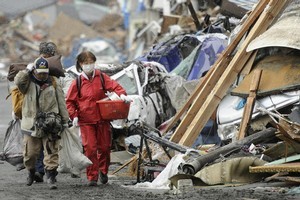 The headlines proclaiming Apocalypse Now almost demand comparisons with August 1945.
In modern times few nations have aroused as much ambivalence as Japan, not even Germany, with which it had much in common. They were instigators of global conflict, they pursued their imperial ambitions and racial fantasies with medieval cruelty and 20th century efficiency. And when the tide of war turned against them, their adversaries took a fearful revenge.
"The Nazis entered this war under the rather childish delusion that they were going to bomb everyone else, and nobody was going to bomb them," said Air Chief Marshall Sir Arthur Harris, head of RAF Bomber Command, when the allies began bombing German cities in 1943.
"At Rotterdam, London, Warsaw and half a hundred other places they put their rather naive theory into operation. They sowed the wind, and now they are going to reap the whirlwind."
And reap it they did. Observing the bombing of Berlin from a Lancaster later that year American broadcaster Edward R. Murrow described it as "a thing of orchestrated hell - a terrible symphony of light and flame".
An even more terrible light, brighter than a thousand suns, consumed Hiroshima and Nagasaki. It's sometimes overlooked that the nuclear strikes came on top of a seven-month conventional bombing campaign which rained destruction on 67 Japanese cities.
Both countries were rebuilt with American aid and performed economic miracles, surpassing all but one of their conquerors.
Japan became an honorary member of the Western world, but its war crimes were neither forgiven nor forgotten, especially in Australia where the Burma Railway and the bombing of Darwin became key components in the national narrative and world view.
After the fall of Singapore our neighbours decided they could no longer look to Britain for protection; they began withdrawing troops from Europe and turned to the emerging empire across the Pacific.
Earlier this month Australian Prime Minister Julia Gillard, fresh from being prevented from addressing an official sitting of our Parliament by the Greens, told a joint meeting of the US Congress that America had "an ally in Australia. An ally for war and peace, an ally for hardship and prosperity, an ally for the 60 years past and Australia is an ally for all the years to come".
Although our wartime leader Peter Fraser conveyed his Cabinet's fears of a Japanese invasion to Winston Churchill, yellow peril paranoia never took hold here to the same extent. In due course Churchill's reassurance - "There are many other far more tempting objectives for them" - became the guiding principle of our foreign policy and defence.
Thus although Gillard's speech was supposed to mark the 60th anniversary of the Anzus military alliance, the menage a trois is now a devoted couple. A strain of paranoia emerged in the 1970s as a result of Japan's export surge. We bought their cars and gadgets and took their tourist dollars, but fretted over the long-term implications, much as we do now with China. Pundits and academics debated whether - or in some cases when - Japan would overtake America to become the world's greatest economic power.
They say generals always fight the last war but when Michael Crichton's Rising Sun, an expose of Japan Inc's plan for world domination masquerading as a crime novel, appeared in 1992 the powerhouse was on the wane. The bursting of the asset price bubble in 1991 ushered in what the Japanese call the "lost decade". These days the pundits and academics tend to focus on Japan's demographics rather than its economic indicators, and what they see is evidence of decline. Almost a quarter of Japan's population is 65 plus. By 2050 that will be 40 per cent.
Now Japan has been devastated once again. The reduction of entire communities to muddy wastelands, the threat of nuclear disaster, and the headlines proclaiming Apocalypse Now almost demand comparisons with August 1945.
There's a bitter irony in the fact that one of the most recognisable symbols of post-war Japanese popular culture is Godzilla, the monster created by a nuclear explosion that comes from the sea to destroy cities, leaving only radioactive footprints in its wake.
When Godzilla made its cinematic debut in 1954, Japanese audiences saw it as an allegory of the nuclear destruction of Hiroshima and Nagasaki. The monster's enduring appeal - there have been 28 Godzilla movies - is attributed to the nation's fear of another nuclear horror.
"Godzilla!" moans the despairing Japanese Prime Minister in Godzilla 85. "I was hoping I'd never hear that name again."