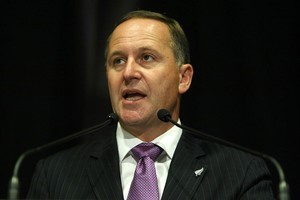 It is the stuff of political nightmares. It would be a party from hell. Imagine if Hone Harawira, Sue Bradford and Matt McCarten were to form a party and actually get themselves into Parliament.
Here we have a rabid left-wing Maori nationalist, a rabid left-wing social activist with a tinge of green, and an old-fashioned union boss who is so far to the left that he could shake hands with Sir Roger Douglas on the right.
It's unlikely to happen, thank God, but the mere idea of it, floated by Mrs Bradford this week, is enough to give John Key and Phil Goff palpitations, such is the fragility of coalition alliances in this election year.
At the other end of the spectrum, the Act Party is in disarray and there is growing apprehension that it might not survive, since it is dependent on Rodney Hide's re-election in Epsom. That is in no way certain considering the many ways he has blotted his copybook in this term.
Then there's Winston Peters.
So it's shaping up to be a fascinating election year and I cannot remember another in which a campaign has begun as early as this one. The year has hardly begun and the principal parties are hard at it.
Already Mr Key and Mr Goff have announced major policies which, at last, open a clear division between the right and the left. For too long National and Labour, in their quest for that elusive, grey thing called the centre, have been almost indistinguishable from one another.
I suppose this early start has to do with the imminence of the Rugby World Cup, which will occupy the nation's attention for the critical pre-election months of September and October.
Like many other Kiwis I have but a passing interest in the game. However, I do know that the hoi polloi and the media will be totally obsessed with 30 men chasing a pumped up piece of pigskin (or whatever balls are made of these days) round a paddock and there will be little room for political discourse.
So the Prime Minister has drawn a line in the sand as the year barely hits top gear with his announcement of National's intention to partially privatise a number of state energy assets.
And Opposition Leader Phil Goff has responded with a slew of old-fangled socialist policies such as tax exemptions for the lower-paid and higher taxes on high earners, restoring handouts for early childhood education and "Mondayising" date-specific public holidays.
I can see Mr Key's motive in announcing the partial privatisations this early, for it will take a lot of time and effort to convince a once-bitten, twice-shy electorate of the benefits of such a move.
I suspect, however, that he will succeed. There is a huge difference between Mr Key and what he proposes and the stupid sacrifice of state assets by the incompetent to the point of stupidity, short-sighted Labour ideologues of the mid-1980s.
One big difference is that, unlike the Lange-Douglas-Prebble-Caygill crowd, of whom Mr Goff was a colleague, Mr Key is no economic theoretician but a highly-successful, pragmatic and independent-minded businessman, the first we have had of such ilk as Prime Minister in my lifetime.
Another big difference is that he has been and is being absolutely up front about National's state asset plans. In fact, he has laid his political future on the line. The 1980s crowd sprang asset sales (giveaways as it transpired) on a bewildered electorate with no prior warning and no consultation.
As chief executive of NZ Incorporated, we can expect Mr Key to organise the planned partial privatisations in such a way that the nation really benefits both financially and socially, and retains a majority equity in them. There are, of course, traps - and these have been made loud and clear by commentators and letter writers since the announcement was made. Mr Key is no fool, so one would expect that he will cover all those bases as the year progresses.
Mr Goff, on the other hand, whose background is university lecturing, union organising and politicking, refuses to acknowledge that the country is so far in debt that it is almost flat broke and cannot describe in any detail how on Earth he proposes to finance the handouts he has so far announced.
It would be great if Mr Key would also revisit the idea of sacrificing a few acres of useless bushlands in the interests of giving access to large deposits of hugely valuable minerals, and run that past the electorate over the next few months.
These riches don't belong to a handful of trampers, bird-watchers, bug lovers or tree huggers but to all of us, and it is extraordinarily selfish of them to try to deprive the nation of the means by which to lift itself out of penury.
I've had a gutsful of coalition governments. They're part of the reason we're in such a parlous state. So let's pray for a National landslide, and stand-alone, one-party governance.