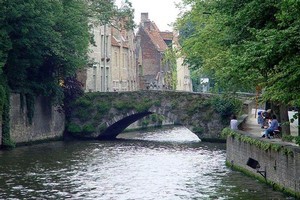 According to newspaper legend, intellectuals working as sub-editors on The Times in the 1930s eased their boredom with a competition to devise the least interesting headline.
"Small Earthquake in Chile, Not Many Dead" was the winner.
The 2011 equivalent of this would surely be "New talks in Belgian crisis", ranking alongside "More Iraqi violence" and "Andy Murray crushed by Roger Federer" as headlines that are so stale or predictable they do not register on the mind.
The woes of this small, divided country and its 10 million people have become wallpaper, even to its neighbours.
Last week, Belgium marked 212 days without a government, a post-war record for any country in Europe. King Albert II rejected the resignation of his mediator, exhausted by months of squabbles that have led nowhere.
No one was even willing to bet on the chances that the leaders of the Dutch-speaking north and French-speaking south would get back to the negotiating table.
So did the French and German media breathlessly follow the twists and turns? Er, no. Coverage of Belgium mainly focused on the important news that actor Benoit Poelvoorde had urged his fellow citizens - just the men, presumably - to grow beards in protest at the politicians' inaction.
"We have decided to stop shaving for as long as Belgium has no government," Poelvoorde, star of cult comedy Man Bites Dog, said. "Let's keep our beards until Belgium rises again."
Such frothy treatment is completely in line with the way Europe's bigwigs view Belgium.
Belgian beer and mussels may have a justified place in the pantheon of European cuisine, and Tintin, Snowy and Captain Haddock have rightfully joined Rene Magritte as European cultural icons.
But when it comes to politics, Belgium's language war and its ramshackle institutions inspire derision.
Belgium gained independence from the Netherlands in 1830, but friction between the Walloons in the south and the Flemings in the north has always been its curse.
For more than 140 years, Wallonia's coal and steel-making enabled it to dominate.
But its decline shifted influence to the north, triggering complaints from thrifty Flemings about subsidising beer-swilling layabouts in the rustbelt.
In the late 1980s, as demands for autonomy surged in Flanders, the country started an always-widening course of decentralisation to the regions.
Many today blame this process for the crisis of central government and eurosceptics see it as a warning to federalists determined to weaken the power of Europe's nation-states.
The June 23 national elections threw up two power blocs that each play to regionalist sympathies and so have little interest in forging a national deal.
They are Walloon socialists, led by Elio Di Rupo, and the Flemish nationalist party NV-A, led by Bart De Wever.
The big stumbling blocks are further devolution of the state as demanded by the NV-A, and the fate of the capital, Brussels, which is also the site of the main European Union institutions.
Brussels is a mainly French-speaking region in Flanders.
Talks on forming a coalition have led nowhere. De Wever has declared Belgium to be a failed state with no future and said pouring money into Wallonia was "like injecting a drug into a junkie".
Some Belgians are getting fed up with the squabbling and even growing a protest beard is not enough.
A website called Camping 16 (www.camping16.be) is demanding that political parties repay the taxpayers subsidies that keep them in business.
On its online petition, protesters can pitch a virtual tent outside the prime minister's office in 16 Wetstraat - or 16 rue de la Loi, if you prefer French - in Brussels.
Nearly 130,000 "tents" are there.
Another protest movement (http://230111.be), set up by three young men who met on Facebook, is scheduling a real-life rally.
At least 13,000 people have promised to attend a march in Brussels tomorrow under the banner "Shame - great country, no government", say the organisers.
They say they want this to be a show of peaceful dissent and are discouraging the waving of flags or other signs of nationalism and regionalism.
For others, though, life is going on. Resignation - or laconic humour in the face of the folly of the world - has a strong tradition in Belgium, which for parts of its history has been a football kicked around by bigger powers and was twice occupied in world wars.
On the economic front, the caretaker government of Prime Minister Yves Leterme is confounding sceptics who forecast ungovernability and public debt would place Belgium on the list of EU basket cases.
But if resignation has a tradition in Belgium, so does quiet pragmatism.
Leterme announced with unashamed pride last week that the public deficit, which was 6 per cent of gross domestic product in 2009, plunged last year to 4.1 per cent, less than half that of Greece.
The overall debt - 97.2 per cent of GDP - was two percentage points lower than expected.
Finance Minister Didier Reynder announced he would continue belt-tightening, to haul the deficit down to 4 per cent of GDP this year, closing in on the eurozone's rules of 3 per cent.
By comparison, the deficit in snooty neighbouring France last year was 7.7 per cent - and even to talk of budget cuts in Paris is political nitroglycerine.
Belgium's political mess does mean the country has to pay higher rates to buyers of its bonds who are worried about what would happen if the country fell apart totally.
But it had little problem this week selling €3 billion ($3.98 billion) in 10-year bonds to a banking syndicate, again confounding the naysayers.
The lion of Flanders and the rooster of Wallonia together make a strange animal, but the hybrid may surprise many people yet.
Famous Belgians
* Football player who revolutionised the transfer system Jean-Marc Bosman
* Actors Audrey Hepburn and Jean-Claude Van Damme
* Tennis stars Justine Henin, Kim Clijsters and Yanina Wickmayer
* Fictional characters Tintin and Hercule Poirot
* Painter Peter Paul Rubens