Garth George writes that education and jobs suffer as no one accepts the blame for years of wild spending.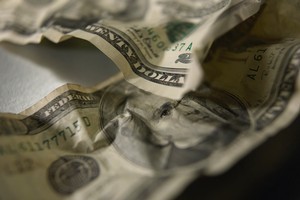 We're all apt to complain from time to time about the state of our nation - the economy, taxes, Government inaction, increasing prices, crime, social problems, whatever.
But reading the papers and some private correspondence lately, I reckon that Australia and New Zealand have so far escaped the worst of the economic earthquake that hit the Western world a couple of years ago and that we are faring better and will recover more quickly than a lot of other developed countries.
We have been regaled in the newspapers of late with the vicious cost-saving measures being imposed in Britain and Greece, in particular, and on Tuesday in this newspaper were brought up to date with the situation in Germany, Ireland, Spain, Portugal, Italy, Belgium and France.
And it occurred to me that we New Zealanders (and Australians, too) are rather fortunate to be tucked away at the bottom of the world, far away from Western Europe and the United States.
We are fortunate, too, that we are not prone to riots, property damage and bloodshed when the going gets tough, unlike Greece, France and even Britain where citizens are liable to express their displeasure in ways we Kiwis wouldn't even consider. Our infrequent and generally well-behaved protest marches are respectable by comparison.
Mind you, I'm not saying that everything in our nation's garden is lovely and we have little to worry about. You only have to read this newspaper for a week to know that isn't so, politically, economically or socially.
And I wonder sometimes, in the face of the Government's regular weekly multimillion-dollar borrowing, whether we have yet to face the consequences of our prodigality over the past 25 years or so.
I wonder when I think of the multi-billion "surpluses" that Labour Finance Minister Michael Cullen so proudly announced year after year throughout the last decade. Where did all that money go, if it existed at all?
However, all that aside, I'm just glad I don't live in the United States. We read a lot of comment by journalists and professional commentators on the state of affairs in the US, but rarely do we read anything of the view of the American man and woman in the street.
From time to time one of them, a mate of mine who lives in Chicago, brings me up to date with what's going on over there and his letters simply confirm that we Kiwis are a hell of a lot better off than millions and millions of Americans, yet suggest we'd better watch ourselves.
He says the main reaction to the economic collapse is still anger, confusion, and a lack of understanding of how the mess happened and that too many people prefer to yell and scream rather than think things out.
He likens what he calls the "American malaise" to that which applied just before the 1929 Wall St crash but with one difference: "Back then, everybody blamed themselves; today people blame everybody but themselves. Everyone spent and spent and spent as if there were no tomorrow."
He points out that George W. Bush inherited a $5 trillion surplus from Bill Clinton and in eight years turned it into a $10 trillion national debt.
The US, he writes, is awash with home foreclosures as more and more mortgages go under - the houses worth less than the borrowing.
And, he says, the "next shoe to drop" will be the bankruptcy of states and municipalities. His state of Illinois is bankrupt and businesses are fleeing to avoid being taxed out of existence. California, New Jersey, New York, Minnesota and numerous other states are on the brink of bankruptcy.
He says those who talk loosely about smaller government and putting people back to work - Republicans particularly - seem oblivious to the fact that a vast number of American industries no longer exist, and that many famous American brand-name businesses are nowadays simply middlemen moving products designed, built and shipped in China to retailers in the US.
"One only has to go to Long Beach to see what is going on - thousands of Chinese and other Asian container ships lined up unloading wagonload after wagonload of goods to be shipped all over America. How, pray tell, are any politicians proposing to bring those jobs back to America?"
As for education, my friend says it is now so expensive that the middle class is increasingly priced out of a quality college education unless they take on debt they might never be able to repay.
As a result, "American students are routinely falling behind their contemporaries all over the world in maths, science, technology and so forth, while there is a general disdain for the so-called soft sciences such as literature, art and music. This alone will make us a second-class nation."
It seems to me that there are a few lessons here that New Zealanders in all walks of life would do well to consider.