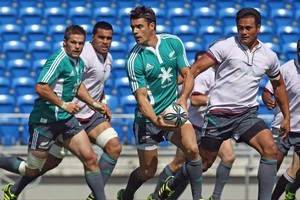 It is a curious situation when the All Blacks head off on a tour where it is simple to measure failure, but difficult to gauge success.
There is an expectation that the All Blacks will come home unbeaten. Okay, there's an expectation that the All Blacks will win every test they play whether it's justified or not, but this time logic, not an inherent arrogance, tells you that potential pratfalls are few and far between.
The Wallabies in Hong Kong tomorrow night loom as the biggest impediment to an unbeaten tour, though if Australia win it will be their first in 11 attempts.
England, too, have some pedigree when it comes to beating the All Blacks, though you wouldn't have thought so, judging by manager Martin Johnson's comments this week.
"They [New Zealand] don't lose many, do they?" he said. "You could probably fit every British or Irish player who has ever beaten the All Blacks in a test match into this room.
Any victory over them is a big notch on your ... wherever it is you put your notches."
It almost sounds like he is preparing his followers for defeat - and this from a man who never once took a backward step as a player.
This world-weary resignation that the All Blacks are playing on a different plane to the Home Countries only exacerbates the sense that Graham Henry has been handed an everything-to-lose, nothing-to-gain scenario.
If New Zealand come home having won a dead-rubber Bledisloe Cup contest and another minor Grand Slam, it would be nothing more than a continuation of the status quo.
Any loss, except maybe to a rejuvenated Wallaby side, will be seen as an epic failure.
England are at a low ebb and lost to a good - but nowhere near great - Maori side in Napier this year; Wales have not beaten New Zealand since 1953; and woe betide the first All Black team to be turned over by the other two Celtic nations.
So how do you genuinely measure success?
Is it the successful integration of Sonny Bill Williams, the most-hyped no-test All Black in history?
Is it returning home with Dan Carter and Richie McCaw intact?
No doubt there will be any number of KPIs - key performance indicators - the All Black coaches will be looking for, but they are meaningless to those who watch the game for its sheer enjoyment.
Perhaps the true test of a successful tour can only be judged in 11 months, when a certain tournament is nearing its denouement.
If they can win displaying the same brand of compelling rugby that was in evidence when they beat South Africa and Australia recently, they could inflict scars that will take more than a year to heal.