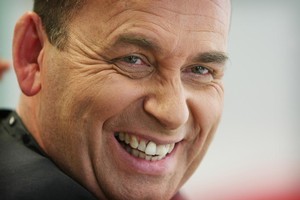 What hasn't been said about Paul Henry this week? Everywhere I went everyone was talking about Paul Henry's latest outburst on Breakfast television.
Most people felt that this time he'd gone too far - but there are still those hard-core Henry fans who see him as a lovable rogue being relentlessly persecuted by politically correct refugees from the Helen Clark era.
The man himself must be feeling hard done by. After years of shocking, outraging and delighting viewers with his over-the-top comments and puerile insults, suddenly he's being punished.
PR spin doctor Andi Brotherston's comments, that Henry was prepared to say the things we quietly thought but were afraid to say out loud, added fuel to the fire and was just plain wrong.
I have never, ever thought that New Zealanders should all look like middle-aged, slightly overweight, white men cast in the mould of Paul Henry.
To her credit, Brotherston realised very quickly the stupidity of her remark and offered to fall on her sword in a display of accountability that cheers the soul.
But Brotherston's initial reaction shows why TVNZ is the real culprit here. TVNZ has never made him accountable for his actions before.
Henry must have thought he was bullet proof - especially after his People's Choice win at the Qantas Media Awards and the reaction to his acceptance speech.
Few people can drop the C-bomb and get away with it, but Henry did and so he clearly thought he could get away with anything. Now he knows he can't but TVNZ must accept their share of the blame for not reining him in before now.
Children don't turn into wilful monsters overnight and nor do television hosts.
TVNZ are also wrong for keeping him on a news and current affairs show. What the hell is he doing there? Any aspirations he had for hosting Close Up must surely be scuttled now.
The decision-makers at TVNZ will be standing around like the nuns in the Sound of Music wondering how they solve a problem like Paul Henry.
He does have fans so the decision-makers should put him under the umbrella of light entertainment - if such a department still exists - and have him do a chat show. He shouldn't be allowed anywhere near the news department of a state-run broadcaster.
It's precisely because of his position that his infantile comments over the pronunciation of a senior Indian minister's name became an international incident.
A breakfast host for the national broadcaster is not supposed to behave like a shock jock or a smutty stand-up comic and if he was where he should be, on a late night show in an entertainment role, our High Commissioner in India wouldn't have been carpeted.
Henry's appeal, from what I can gather, seems to be that of the naughty boy in the classroom, saying outrageous things and performing wicked acts. Which is all very well and good, but he's not 7, he's 50 and a grown man.
I've found his humour to be a blunt tool and it's not really my thing - but humour is subjective and I accept that there are those who set their alarms just to start the day with Henry.
It remains to be seen whether Henry's suspension will curb his excesses. You'd have to wonder whether he even has the ability to put the brakes on.
Ultimately, what happens to Henry will come down to money rather than any sense of journalistic responsibility or adherence to a public service charter. TVNZ will have to decide whether Henry's commercial appeal makes him worth the hassle of keeping him.
And you can bet your bottom dollar that if Henry comes out on the credit side, he'll be back, and larger than life.