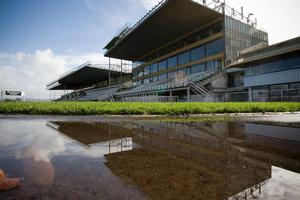 Avondale race course, in existence since 1891, may have to close. Photo / Paul Estcourt
Not so long ago, Avondale and Ellerslie enjoyed virtually equal status in the world of horse-racing. The Avondale Cup was a highly prestigious event. How times have changed. This week, the Avondale Jockey Club suspended racing at its course after its meeting on July 3 because of severe financial problems. It plans to hold meetings at other northern tracks during the 2010-2011 season while it assesses the viability of a return to Avondale. Hopefully, for the community and the city, a way can be found to continue racing at the track.
The Avondale club's woes are due partly to racing's overall decline and partly to its own misjudgments. It has never really recovered from a punt on night racing. At the time, the initiative seemed reasonable enough, given the success of the likes of night cricket. It proved, however, a commercial failure. And while Avondale and its facilities have sunk deeper into disrepair, Ellerslie has prospered. An innovative approach to increasing its public and corporate appeal, notably in introducing a Cup Week in March, has brought glitz and glamour to its meetings.
It has also benefited from the dramatic boost in prizemoney orchestrated by Racing Minister Winston Peters during the final term of the previous Government.
In cold financial terms, it can be argued that Avondale should be left to die. Certainly, the club believes that to be the view of racing's governors. But those administrators have, over the years, also been rather too quick to view many minor provincial courses as surplus to requirements. In some instances, the clubs have begged to differ and waged a successful battle to survive. Their inspiration has come from the fact that they are often more than just racing clubs. They are an integral and important part of their communities.
The same applies to Avondale. Its potential closure is not just a matter for the club and the industry. It is about a community and city resource that would be lost forever. Even now, the course is valuable for more than just racing. It is the venue for a Sunday morning market, and the club leases the infield to the city council for football and cricket. Other events could be held there. If the course were closed and the club raced elsewhere, Auckland, which proclaims so often that it wishes to be known as a vibrant city full of attractions, would lose one of its entertainment options.
In a letter to the editor published today, Michael Barnett, of the Auckland Chamber of Commerce, suggests the course's likely fate if Avondale were shut down. He wants the green space to become a "high-quality suburb", including schools, recreation and other urban amenities. In other words, just another subdivision with high-density housing. What an uninspiring prospect. The face and character of Avondale would be changed dramatically, and for the worse.
It will not, of course, be easy to return the Avondale Jockey Club to a secure level of profitability. The club could sell some land, as Ellerslie has, as a short-term palliative. But at some stage, it will have to find a way to transform itself from a club that, the Avondale Cup meeting in December apart, hosts a relatively small number of minor racedays. It will have to rediscover its former status, a process that will involve the substantial upgrading of its facilities.
If the New Zealand Racing Board is, indeed, somewhat loath to help, Avondale would surely benefit if the board's ambitious plans to rescue the industry from the doldrums, as outlined ina just-released strategic plan, bear fruit. The board's chief executive envisages the New Zealand industry being "theenvy of the world". A course with the tradition of Avondalemust have a part to play in that. Auckland should not be aone-horse town.