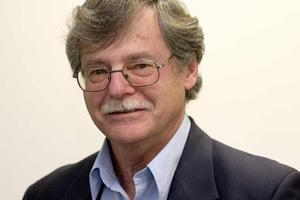 Santa's little helpers at the Auckland Regional Transport Authority are feeling a bit like the parents who buy an expensive toy, and all the kid wants to do is play with the box it came in.
Any day now, ARTA will unveil to rail passengers the glories of the $160 million upgraded Newmarket rail interchange, But what do ARTA's regional council political masters - to say nothing of the Newmarket Business Association and assorted passengers - kick up a fuss about? Plans to close the temporary Western Line station at Kingdon St, 400m up Khyber Pass Rd from the gleaming new one on Broadway.
ARTA had planned to quietly demolish the temporary station over Christmas, but that plan is on temporary hold because of the uproar, stirred up by ARC chairman Mike Lee accusing ARTA of acting "by stealth".
This week ARTA will contemplate a compromise solution to keep Kingdon St open until - you guessed it - the Rugby World Cup in 2011.
A kick for touch, if you like, for politicians and transport bureaucrats of the new Super City to grapple with at some future time.
As a public transport user, I'm for as many stations and bus stops as possible, so I'm for keeping Kingdon St, but you have to sympathise with ARTA's problem. It was dealt an awful hand.
The new interchange at Newmarket should have been built at the intersection of the western and southern lines. But stupid decisions by previous governments led to that slice of the rail corridor being sold off to private developers. The only place for an interchange was further south. This means Western Line trains will now have to head south to Remuera Rd, then reverse direction to back out to or from the CBD.
Over the past two years, as the Newmarket upgrade took place, Western Line trains have avoided this detour, using the temporary stop at Kingdon St instead. Many passengers have got used to it and don't want to change.
The obvious advantage for commuters in retaining the temporary station and avoiding the new station is that they save at least two minutes in journey time avoiding the new dog-leg south.
ARTA has a series of reasons why the temporary station has to go.
One is that the platform is not long enough for the new trains. A replacement station, built to ARTA safety codes, would cost an additional $10 million to $13.7 million.
ARTA also argues that around 36 per cent of passengers on the Western Line will transfer at Newmarket and if these trains stopped only at Kingdon St, this would inconvenience these passengers by forcing them on a five-to-10-minute walk to transfer on to the Southern line at the new station.
Reaching optimistically into the future, ARTA officials also argue that once the CBD tunnel out of Britomart and underground to Mt Eden is built, Western-bound trains will be able to avoid Newmarket altogether, so it would be a waste to spend money on Kingdon St now.
I must say that with the CBD tunnel only a long-term dream, this argument is a touch optimistic, if not totally fanciful.
A compromise option would be to alternate the Western trains, so only every other one went into Newmarket proper, while all stopped at Kingdon. The problem for customers would be working out which train was which.
Mr Lee insists that OnTrack, the Government rail operator, promised the ARC in 2006 that Kingdon St would be retained as a permanent station to service the Western Line, removing the need for the trains to reverse.
In December 2006, the ARC advised ARTA that this was the ARC position.
Personally, I've always thought forcing trains heading west to have to detour into Newmarket then back out, was crazy.
I also suspected that Kingdon St, once built, would be hard to get rid of. I still do. But after building a fancy new station to service two lines, it's going to be rather wasteful to suddenly decide it isn't an interchange after all.
One compromise would be to retain Kingdon St as an additional stop while taking the trains into Newmarket as well. Is an extra stop in a busy shopping precinct such a bad thing?