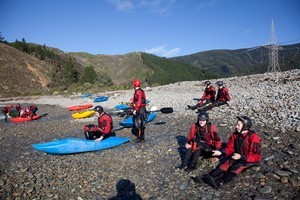 Alison Shanks was almost at breaking point.
She wasn't in the last stages of a gruelling 3000m pursuit as you would expect - but confronting her fears on an Outward Bound course.
The cycling champion is accustomed to high-pressure situations but the recent course presented a series of intense physical and mental challenges.
Along with 13 other members of Bike NZ's high performance programme, Shanks completed the eight day course in the Marlborough Sounds.
"At times it was brutal," recalls Shanks. "Sometimes I thought, 'what I am doing here? I just want to go home'."
Shanks admits the group were pushed to the limit by the tough Outward Bound instructors.
"At times you think, 'oh, my gosh, I just want to punch you'," she says of her instructors. "But you come away from it realising that, while they put you in some testing situations, they try to find your breaking point.
It was good to be tested in a new environment and in completely different ways to what we are used to. They tailored it so that every single person is pushed out of their comfort zone by the end of the course."
Over the last month Bike NZ, Swimming NZ and Rowing NZ have sent high performance teams to Outward Bound as a critical training step towards the London Olympics. While each course consisted of typical activities like rock climbing, sailing, tramping and the overnight solo experience, the focus was less on physical endurance and more on team building, resilience training, mental toughness and personal challenge.
One of the biggest adjustments for Shanks was the constant uncertainty, never knowing what would happen next. Like many athletes, cyclists live extremely regimented lives. On their training camps they are given daily schedules-when to eat, when to sleep, when to ride-often weeks in advance.
"I like to know what I am doing and where I am heading," Shanks says, "but all that went out the window. They would say to us, 'right, you are going out in the bush for two nights and have 15 minutes to get ready'."
There was also the challenge of spending every waking hour- literally-with her team-mates.
"At one point we were given a groundsheet, a fly and sleeping bags and told to set up camp in the bush. All 14 of us were packed in like sardines trying to keep warm. You can't help but get to know your team-mates."
At another stage the group spent a night at sea, all squeezed together on an old boat. Even back in camp, the mixed group shared a communal bunkroom.
"As a team-building exercise, it is pretty unique and you could say pretty extreme," Shanks says.
The athletes had the added test of "terrible conditions", one of the worst April's the Outward Bound staff could remember, with almost constant rain and gale force winds.
For Shanks, one of the greatest challenges was the high ropes, where she had to walk on a thin wire 5m above ground.
"I definitely had some moments up there," she admits. "Obviously you are harnessed on but the mind seems to play some funny tricks when you are way up high and told to jump across a 2mgap."
The dreaded early morning swims in the chilly Marlborough Sounds was another memorable experience. Jumping into freezing water is difficult enough but is compounded when the air temperature is five degrees and you have a cold shower afterwards to 'warmup'.
"If there are 13 others jumping off the wharf into the water, you can't really say no because they are all going to be screaming at you to get in the bloody water," laughs Shanks.
There were also plenty of light hearted moments during the course. Shanks describes the scene on the boat: "There was no wind so we had to row, using these old-style oars. They don't really work and we were all completely sleep-deprived."
A naked backflip by Eddie Dawkins off the top of a launch was "one of the funnier moments".
"He decided to get naked, which was a big shock for us all."
As well as team building, Outward Bound is also about finding yourself and identifying your values. The cyclists spent two nights in the bush in complete individual isolation.
"I really enjoyed it," says Shanks. "We are always on the go and in constantly changing environments. But there we had no reading material, no cell phones or i-pods and no option but to sit in the bush and just think. It was a good time for me to take stock of where I had been and where I wanted to go."
After a month's break, which included the Outward Bound course, Shanks was back on the bike last week ready for the long haul through to the London Olympics. The female track team have a camp in Invercargill starting next week, before Shanks heads to the US in June for three months of riding and racing.
EMILY THOMAS is a shining example of the Outward Bound effect. Thomas, who last year became the first Kiwi in 23 years to medal at the Pan Pacific Championships, is one of the shyest members of the swimming fraternity. But now she reports more confidence; more at ease with the team situation and dealing with outside pressures.
"My self-belief has increased," says Thomas. "It took a lot to push myself sometimes but I learned that your body can do more than your mind tells it to."
The toughest experience was a 13-hour, mostly uphill tramp, carrying 15kg packs. The group of 14 swimmers set off at 10pm, stopping to set up camp at 1am.
After a largely sleepless night, they started again at 7am. "We enjoyed most of it but in the last three hours everyone was knackered and getting pretty angry." The next day was the solo overnight experience. Thomas was given two apples and two carrots to last the 24 hours alone, but after struggling for hours to set up camp-"I wouldn't have a clue how to set up a shelter"-slept for most of the time, still exhausted from the tramp. Thomas says she would go back "tomorrow" if given the chance again, and jokes that one day she would like to become an instructor for the famous institution.
Rower David Mabbot is an Outward Bound veteran. Having been on a course in the winter of 2009, the under-23 coxed four rower was sent back for more last month.
While the first experience was focused on developing individual strengths and values, this course was aimed at building trust and cohesiveness within the team before they embark on their European campaign, which culminates at October's world championships in Slovenia. "It was my second time," says Mabbot, "and I have to say I was not overly enthused. But it worked out well. We wouldn't have developed the camaraderie and integration that we have now. It promoted some pretty straight talking."
Indeed, now some of the Outward Bound techniques have become part of the Rowing NZ modus operandi. After each activity at Outward Bound, participants are encouraged to give two lots of positive feedback and one piece of constructive criticism to their peers, something that is now used during the weekly team meetings at Karapiro.
OUTWARD BOUND chief executive Trevor Taylor admits that working with high performance athletes presents different challenges.
"We are not a boot camp," says Taylor, "and with athletes we are not so much worried about the physical side. It is about making them more self-aware of their strengths and weaknesses, their aspirations and their values.
"We take away their home comforts and find out what really drives them." For Taylor, it is about helping them find that "extra two per cent", often the difference between success or otherwise on the world stage. By putting them outside their comfort zone-and then finding out how far they can extend that zone - it gives them tools to use when things go wrong.
Sparc agree and currently fund one-third of each camp, with the remaining costs split between the sporting bodies and the Outward Bound foundation.
Outward Bound have run five camps for rowing since 2005, while Swimming NZ and Bike NZ have recently come into the fold. Triathlon and sailing are said to be the next sports on the list, while eventually Taylor would like to offer programmes to more traditional team sports like rugby, league, cricket, netball and football.
Testimonials have been overwhelmingly positive. 2010 world champion Nathan Cohen said: "I never realised what kind of bubble I was in [within rowing] until that course," while fellow oarsman Joseph O'Sulivan said the 10 days in Anakiwa gave him a "new wayof thinking, enabling me to be true to myself and others".
Beyond these soft skills, the sports have noticed tangible benefits to their team environments. Bike NZ high performance staff talked of a real "levelling out" from the course, away from the typical cycling environment. He said there was no room for stars, and the usual divide between young and old evaporated over time.
Taylor says some of his instructors were a little apprehensive at first at dealing with athletes compared with the usual clientele. "They soon realised they are just normal people," says Taylor, "especially with the demands of the course. They may be fitter than most, but they also have fears, weaknesses and vulnerable points like anyone else."
"EVERYBODY RECOGNISES that sport at the highest level can be decided by the smallest things and we wanted to explore all avenues," says Sparc general manager high performance Martin Toomey. "It is about athletes discovering what shapes them as people and giving them every opportunity to performat their best."
Toomey feels it is particularly important for individual sportspeople, who are often thrown together into teams at big events without having the time together to build compatibility that those in team sports enjoy.
The current arrangement has Sparc funding for three years and will be reviewed at the end of 2012.
At that stage, Sparc will meet with the relevant national sporting organisations and Outward Bound to assess the perceived effectiveness of the programmes. Outward Bound will celebrate their 50th birthday next year, having been established in 1962. They still operate from their original location. Over 50,000 New Zealanders have been through their programmes.