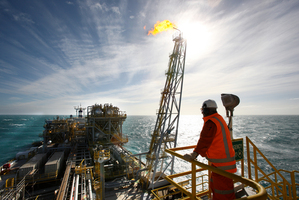 New Zealand Oil & Gas says it should have been developing new oil fields by now as reserves at its producing assets dwindle.
However, the company says it has a strong enough balance sheet to give it more time to find oil to replace declining output from its Kupe field and Tui field, which was a long way down the "decline curve".
In its results for the year to June 30, it reported a fall in normalised after-tax profits from $33.1 million to $16.7 million, but after-tax net profit rose 30 per cent to $25.9 million.
Chief executive Andrew Knight said cash flows from existing fields gave the company sufficient capacity to invest in new ones.
NZOG had $158 million of cash at June 30 and over the past year had paid off $46.6 million of debt. Revenue from the 15 per cent-owned Kupe fell to $68.8 million from $74.3 million a year earlier, due mainly to a planned maintenance outage, while revenue from 12.5 per cent-owned Tui fell to $30.4 million from $42 million.
NZOG paid royalties of $9.4 million, down from $12 million. The company also got a $5.6 million capital return from Pan Pacific Petroleum during the year.
The company is preparing to drill at Matuku, offshore Taranaki, next month. Hamilton Hindin Greene analyst James Smalley said the next 12 months would be crucial for NZOG, which still had plenty of revenue and cash but needed another Tui-size field.
Knight also said the company was satisfied it "stepped up and did the right thing" after the disaster at Pike River Coal despite pressure to contribute to the families of victims and survivors.
NZOG will pay a final dividend of 3c a share. Shares closed down half a cent yesterday at 83c.