Nine days after her feet were attacked by the notorious Mount mauler, Angela Freeman's feet are still covered with red bite marks.
And she is not alone, according to victims who have come forward since a Bay of Plenty Times story last week.
Other victims of the mysterious bugs report having to nurse their mauler wounds for up to two months after being bitten at beach locations including Mt Maunganui, Papamoa, Opotiki and Pukehina.
Mrs Freeman, of Te Puke, was attacked while resting near the Kaituna river mouth at Maketu last week. Although she believed the bites had since faded, her feet were still festooned with red marks more than a week later.
"They were extremely itchy and I didn't even like putting shoes on," Mrs Freeman said. "But now they are much better."
The itching had started they day after she was bitten, and stopped after four days.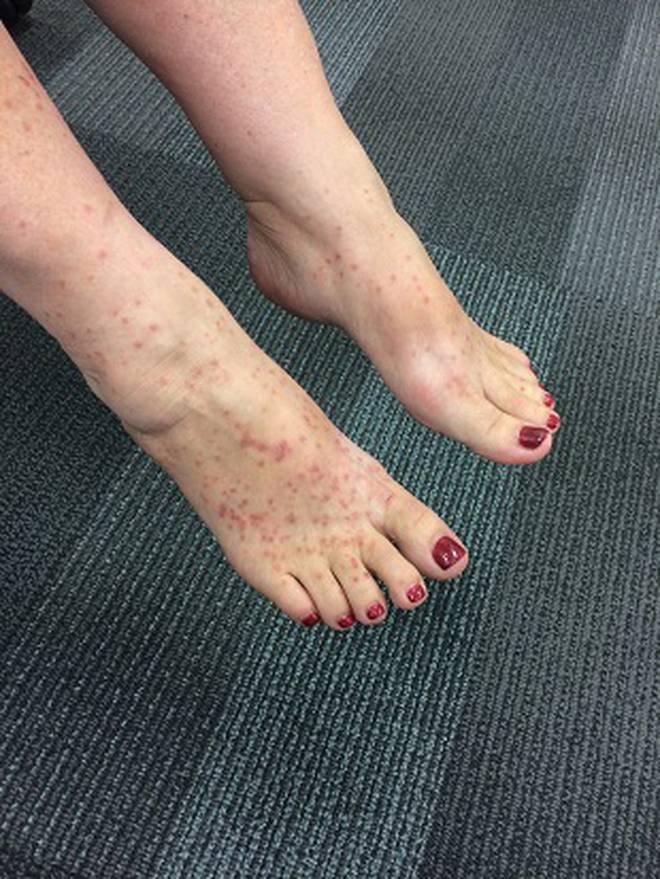 The Mount mauler has never been conclusively identified. Prime suspects are a microscopic jellyfish called hydromedusae or the larval stage of an insect called phycosecis limbata.
Last week's story prompted dozens of comments on social media, with beachgoers reporting maulings from as far away as northern Queensland.
One woman said that the maulers were not a new phenomenon, and she believed they had been active in the Bay of Plenty for 50 years.
Another woman, from Papamoa, said it took two months for her wounds to heal after she was bitten down the left side of her body a couple of years ago.
"I got bitten again the other day and as soon as I felt the first bite I sprinted down to the water," she said. "I survived with about eight nasty bites this time."
It is unusual for people to notice mauler bites in this fashion, with most victims stating they only became aware of them later. The maulers resemble tiny, translucent maggots and are believed to target people lying in soft, dry sand.
A third woman said the maulers resembled bugs that were common on beaches north of Townsville, in Australia.
"They are called midges up there," she said. "They are exactly as you describe. You can barely see them if at all. You don't feel them biting, but then the bites come up later and are very itchy."
Tauranga woman Kate Keown, now living in Christchurch, said both of her legs and feet were covered with bites after an attack at Papamoa on December 26 and 27. The bites had since become less visible but were still red.
"My feet and legs were so badly bitten that I would apply a cold flannnel to try to ease the discomfort," she said. "I am 31 weeks pregnant, which restricted what medication I could take."
Staff at Bay medical centres have reported only sporadic maulings this summer, with victims coming in for bite creams and antihistamines.
Unichem Mount Dispensary owner Daphne Earles said that over the holiday weekend her staff had served up to four customers a day for beach bites. This was not an unusually high number, and it was likely that bad weather was keeping people off the beach.
Lifeguards at Mount Maunganui and Papamoa said they had received few reports of 'maulings'. However, most victims do not report symptoms until after they have left the beach.
Mount Maulers
Are 2mm to 3mm long
Are translucent
Lurk in soft, dry sand
Bites start itching hours or days later
Bite marks can remain for weeks