Whoever gains government in Australia will have to negotiate around the demands of the new force of angry men, led by that angriest of angry women Pauline Hanson.
With no clear winner in Saturday's election and the counting of postal votes keeping the nation guessing, the leaders of the two main parties are trying to win over independents, who each have their own demands.
With Hanson, those demands include the abolition of the Family Court and a better custody deal for fathers, issues associated with men who believe they have been deprived of rights in family break-ups.
Pauline Hanson's One Nation is a male-dominated outfit.
Certainly it had women candidates: About a quarter of its total of 27 were women and half the eight Senate candidates were women.
However, men had the positions most likely to see victory. The party is expected to win two Senate slots in Queensland, one in NSW and possibly one in Western Australia. Of the four possible One Nation senators, three would be men.
It seems, however, that neither Prime Minister Malcolm Turnbull nor Labor leader Bill Shorten have rung her yet as the pair try to get the numbers for a government. Asked by Seven Network yesterday if Turnbull had called her yet, Hanson said: "No, I think he has lost my number."
Asked if Shorten had been in contact, Hanson laughed and replied: "You've got to be kidding. At this point I am totally independent, maybe not like everybody else."
Her likely Senate colleague Derryn Hinch, however, said he's had a very long chat to Turnbull.
"I spent 50 minutes on the phone last night with the Prime Minister of Australia," he said. "On Friday, I got a call from Bill Shorten wishing me well.
"So they were out there trying."
Hanson, though, insists she is in charge of her own party.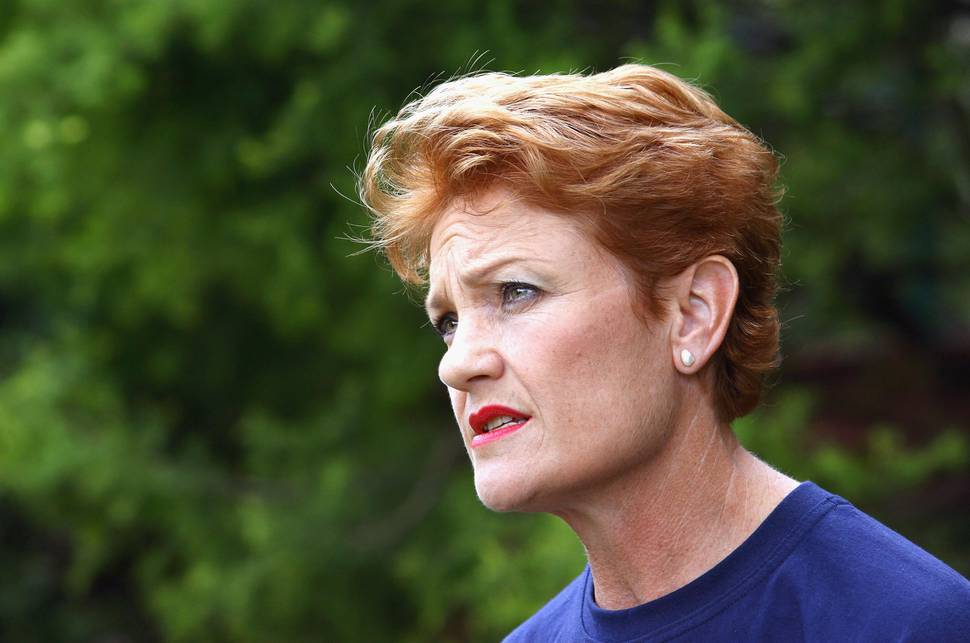 "I don't need to listen to anything. I know what the people are thinking and how they are feeling. So let's get this country on track," she told one TV interviewer at the weekend.
But Pauline Hanson's One Nation is a blokes' show, and the policies underline that.
"The functions and operation of the Child Support Agency will be reviewed and extensive community consultation will occur to develop appropriate guidelines for operations," One Nation's policy list says.
"The punitive maintenance regime will be overhauled as a matter of urgency."
One Nation demands would target the United Nations and the threat seen in its Agenda 21 sustainable development aims, matters of keen concern among marginalised men. "Bring back federalism and restore Australia's constitution so that our economy is run for the benefit of Australians instead of the United Nations and unaccountable foreign bodies that have interfered and have choked our economy since the federal government handed power to the International Monetary Fund in 1944," its economic policy says.
These are the products of seething, marginalised men, often middle-aged, who are seeking explanations for life not being optimal. And the demands will be in addition to those for royal commissions into Islam and climate change, and an end to halal certification.
There would be support for a plebiscite on same sex marriage, although voting for law changes.
It is likely Hanson will return to Parliament for the first time in 18 years thanks to the votes of angry men, but there were women who also backed her. But it might be for what she represents, not for Hanson herself.
On election night, news.com.au met a One Nation supporter who was a gender and generation away from being an angry, middle-aged man. She was a 32-year-old young woman with a bright, positive outlook, and a good job she was good at.
"Will she get in?" she asked news.com.au.
She was pleased when told she would, but said, "I like her policies. It's a pity she's the leader because she's a bit of a bogan." news.com.au