A New Zealander and at least two Australians have been kidnapped in southern Nigeria by gunmen who killed their driver.
The trio are said to be contractors for cement company Lafarge Africa, Reuters reported.
The group were attacked on the outskirts of Calabar in the early morning (about 4.30pm yesterday, NZT).
A spokeswoman for Lafarge said its contractor in Nigeria, MacMahon, had alerted Lafarge Africa that a security incident had happened on the road from Calabar involving some of its employees.
The Australian mining giant MacMahon was working with government security agencies to resolve the situation.
DO YOU KNOW MORE? CONTACT US
The New Zealand Government confirmed a New Zealand citizen and a number of Australians working for an Australian mining company had been kidnapped.
The Nigerian Government said it was throwing everything it could behind the operation to secure the release of a New Zealand man, four other expats and two Nigerians.
The group was kidnapped after their driver was shot dead as he was taking them to work.
They all worked for the Australian mining and engineering company Macmahon.
Nigerian Government spokesman Christian Ita said security services, the police and army were doing everything possible to ensure the release of the New Zealander and everyone else affected.
They knew where the group was being held, he said.
Christian Ita said it appeared a militant group was responsible but he was unaware of any demands for money.
The Government was hopeful the hostages would be released soon.
A witness told local newspaper, the Punch he was returning from his farm yesterday when he saw the kidnapping happen, near the Idundu Bridge, in the eastern part of the city of Calabar.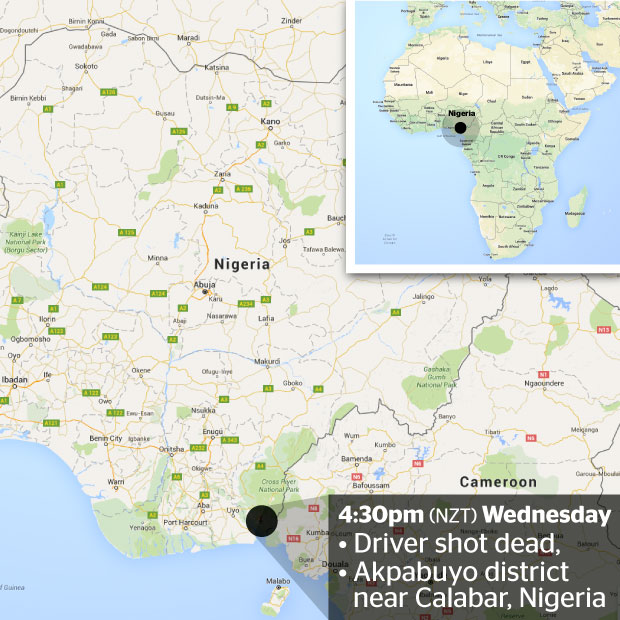 "These kidnappers came out from the bridge, shot the driver of the vehicle and took the victims away through the river.
"The vehicles conveying the expatriates and the two Nigerians were abandoned by the road-side with the dead body of the driver. From all indications, the expatriates were going to work at the Lafarge Holcim plant in Mfamosing.''
A spokeswoman for Cross River state police told the publication two of the men had since escaped, but she did not know their nationality.
The Ministry of Foreign Affairs and Trade said officials were in contact with the hostage's family.
A spokesman said the ministry continued to seek more information on the situation and was also in contact with Australian authorities as well as the mining company.
Given the sensitive nature of the situation the Ministry said it would not be commenting further.
A spokesman for Foreign Affairs Minister Murray McCully said the minister was receiving updates on the situation as it unfolded.
The kidnappers are yet to contact police.
An MFat spokesman said 25 New Zealanders are registered with the government in Nigeria.
The MFat website said as there was no New Zealand diplomatic presence in Nigeria, so the ability for the government to provide assistance to citizens was severely limited, particularly in regions where travel was advised against.
The Ministry of Foreign Affairs has Nigeria has a extreme risk rating because of the threat from terrorism, kidnapping and violent crime.
It advises against all travel in the north and against all tourist and other non-essential travel throughout the rest of the country.
It says there is a high threat of kidnapping throughout Nigeria, but particularly in the north, where most of the recent kidnappings had happened.
Expatriate workers at oil and gas facilities were at particular risk of kidnapping as the crimes were often financially motivated.
New Zealanders working in the northern states against Government advice were advised to seek professional security advice and take appropriate personal security measures at all times.
Another high-profile kidnapping involving a New Zealander was that of Mary Quin, who in 1998 was in a tour group that was taken hostage by armed and masked militants in Yemen.
Palmerston North-born Dr Quin, now a member of the board of Westpac NZ, was one of 16 tourists taken hostage by the group, who used them as shields in a gun battle between the Aden-Abyan Islamic Army and Yemeni troops.
Dr Quin managed to flee after she ripped an AK-47 from a kidnapper.
She later wrote the book Kidnapped in Yemen about her ordeal.
Kidnapping, a long-standing problem in Nigeria
Kidnapping for ransom has been a long-standing problem in southern Nigeria, particularly in the oil-producing delta region, where criminal gangs target wealthy Nigerians and expatriate workers.
Most are usually released after the payment of a ransom.
In the 2000s, the Movement for the Emancipation of the Niger Delta (Mend) took foreign employees of oil companies in the delta hostage in exchange for ransom.
University of Waikato Professor of international law, Alexander Gillespie, said kidnappings in Nigeria were quite common.
"There has been over 200 kidnappings since 2006 and the vast majority of kidnappings are from groups who ransom people for money," he said.
"People are stolen to order or people are stolen to sell. So each Westerner, on average, could be worth over $1 million. If you're in north Africa, it could be up to $2 million. They're worth a huge amount of money."
Professor Gillespie said the motive could be about pushing a religious cause or purely about getting money.
"If it's about money, then you would see a negotiation process going on."
However, New Zealand's policy is to not negotiate with captors.
"If you negotiate, you create an incentive for your own citizens to become targets in other countries."
Professor Gillespie acknowledged that it is possible that those involved are linked to Boko Haram, the terrorist group behind the infamous kidnapping of more than 200 women and girls in April, 2014.
The Nation reported that kidnapping for ransom has grown to a frightening level in Nigeria, and ordinary people are potential victims and perpetrators.
It said "a recent unofficial report put the annual figure in at well over 1000" cases. From militant groups, the problem has extended to kidnapping syndicates and ordinary criminals.
"There have been reported cases of people stage-managing their own kidnappings in connivance with supposed kidnappers and later sharing the ransom after it had been paid by their family."
The Nation reported that in 2013, housewife and trader Nancy Chukwu was arrested by the police in Enugu State after she allegedly faked her own kidnapping to demand a N200,000 ($980) ransom from her husband.
Piracy is also an issue in Nigeria. Business Day reports that in February' a South African container ship's captain was hailed a heroine after she outsmarted a gang of pirates off the Nigerian coast. Zetta Gous-Conradie and her crew came under attack when pirates boarded the ship and opened fire on the bridge.
The captain ordered her crew to take cover in the engine room' while she alerted the Nigerian Navy' and kept everyone calm even as the pirates tried to force their way in' until help arrived.
-AFP, Business Day, The Nation
Armed groups in Nigeria
The two main areas of unrest are in the north where Boko Haram has been fighting for an Islamic state and in the Niger Delta where rebels steal oil and attack infrastructure
Boko Haram
• Islamic militants based in the north who have killed, kidnapped and displaced millions of people for seven years.
Niger Delta Avengers
• Emerged in February and is the most active group in the south, sabotaging Nigeria's oil infrastructure for months with bombings of pipelines and facilities. Wants a fairer share of oil revenues for the impoverished and polluted southern region. Targeted Shell and Chevron in May. Matthew Bey, an Africa energy analyst at Stratfor, told ABC News: "It seems to be a new generation of militant groups."
Movement for the Emancipation of the Niger Delta
• Wreaked havoc in the creeks and rivers of the delta from 2006 to 2009, costing the nation roughly one-third of its oil production. The rebels were bought off in a government-brokered amnesty deal in 2009. A prominent leader of the group was Tompolo, real name Government Ekpemupolo, who was declared wanted on multi-million-dollar corruption charges. The Niger Delta Avengers group is thought to involve Tompolo's supporters. But Tompolo has previously said he is not part of the group. Mend condemned Avengers attacks in May.
Red Egbesu Water Lions
• A new group, according to ABC News, with similar aims to Niger Delta Avengers
Joint Niger Delta Liberation Force
• A new group. Said it would hit "all those infrastructures that were built with our oil and gas monies in this country".
-AFP, ABC News, AL-Jazeera