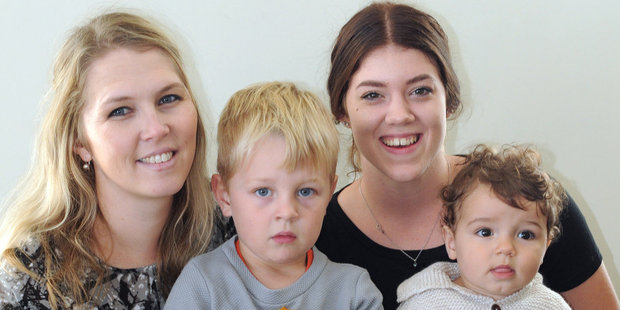 A career in childcare is becoming a popular choice for school leavers who are being attracted by practical, hands on courses.

Samantha-Jo Aitchison had two careers in mind - joining the New Zealand Air Force or working with children. After completing NZQA Level 2, the Blenheim school leaver applied for the PORSE nanny intern course in Hawke's Bay.

The PORSE Nanny Intern Programme is a 21-week training course, which offers a mix of practical and theory-based learning.

"I have always loved children and I enjoy learning on the job. It doesn't feel like study because I'm doing something I enjoy."

After a late enrolment, the 17-year-old was matched with a family from Napier, where she spends 21 hours a week.

Ms Aitchison feels particularly "lucky" to be part of a loving environment, caring for seven-month-old Parker and brother Cooper, three-and-a-half.

Mum Toni McGregor says having a nanny at home is hugely beneficial when you have demanding work hours.

As owner of floral and wedding stylist business, the summer season is particularly hectic.

"It's actually been a lifesaver. When you are a parent who works from home there's a part of you that worries you aren't providing everything you need for your kids. Having a nanny intern means I can work and be assured the children are being well cared for, " Ms McGregor said.

Not only is it a practical solution, it's also affordable with fees of up to $5 an hour.

"It's definitely an extra cost for us, but it's freed up extra time for me to take on another wedding a month, which covers costs."

More demand for nannies has prompted PORSE In Home Childcare to launch an extensive drive for fresh candidates.

The course allows interns to work through a National Certificate in Early Childhood Education and Care (Level 3) for free.


On top of practical experience, they spend a day in the classroom each week, which includes lessons in early brain development, attachment theory, care routines, and hearing from the local Plunket Nurse.

PORSE General Manager of Education & Training, Erin Maloney says that the programme is a win-win for both the training families and nanny interns involved.

"Families benefit from having a nanny in their own home for a minimal cost while nannies also benefit from the practical, real-life experience that the placement offers them. They get the on-the-job training to fit alongside the theory that they are learning about - it makes it real for them."

"The nannying role is on the rise, with more and more families looking to nannies to support their busy lifestyles - especially as mothers return to the workplace. The Nanny Intern Programme offers a great transition into this space for families who are looking for affordable and accessible support," Ms Maloney said.

Ms Aitchison encouraged others to join the course if they wanted to take a positive step toward a career caring for children.

"The Nanny Intern Programme has been a life changing experience for me and I urge anyone thinking about a career in childcare to enroll. It's an amazing hands on experience where you know you're making a difference to the child's life."

For more information contact Catherine Wedd, 0212886770