Dramatic images of masked gunman Russell John Tully from inside the Ashburton Work and Income bloodbath can be shown for the first time.
Chilling footage from 12 security cameras inside the Winz office where Tully shot and killed two workers on September 1, 2014, was key to a jury finding him guilty of the slayings earlier this year.
Justice Cameron Mander had made a suppression order banning publication of the graphic footage - both still and moving images - during the two-week trial in the High Court at Christchurch.
The order was "made out of concern for the interests of the victims and their families".
But in a ruling today, Justice Mander allowed the release of four specific images of the balaclava-clad and gun-toting Tully inside the Winz building for the media to publish.
The photos had been included in the trial photograph booklet produced in evidence.
They show only the gunman and not any Winz staff members or victims. Tully is not firing the weapon in any of the images.
The Ministry of Social Development (MSD) opposed the release of the footage, saying it would "re-traumatise victims" and cause them undue hardship, while also causing upset to its 5000 to 6000 staff across New Zealand, as well as jeopardising security for its Winz offices and inspiring copycat offending.
In allowing the release of four select photos, the judge - who denied applications to release the CCTV moving footage - ruled there was "proper and legitimate public interest" in allowing publication of the still photos.
"The release of the identified still photographs strikes a proper balance between the need for the media to present a complete report (or as complete as possible) of the evidence of Mr Tully's offending and the interests of the victims and the dignity of the deceased so as to avoid undue hardship," Justice Mander said.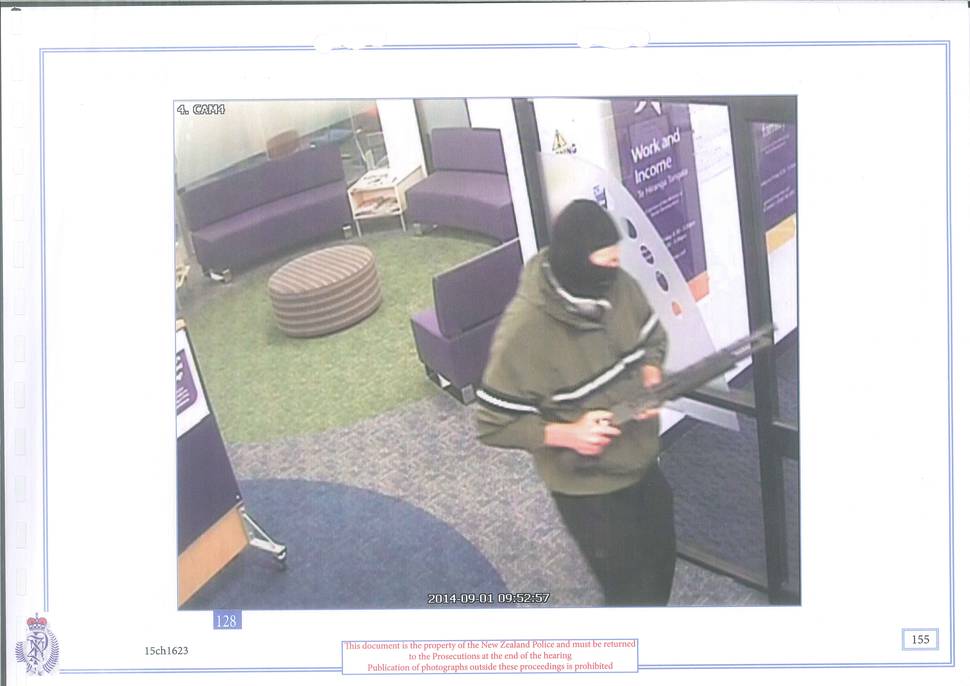 Tully spent just 61 seconds inside the Cass St office where he fired six shots - killing receptionist Peggy Noble, 67, and 55-year-old case manager Leigh Cleveland, injuring case manager Lindy Curtis, 44, with a blast to the leg, and narrowly missing a fourth Winz worker, Kim Adams, who felt the bullet "whoos" past her head before she fled the building.
The court heard that Tully had been trespassed from the office after his intimidating behaviour towards staff.
Tully was due to be sentenced on Friday, but court officials revealed yesterday that it has been vacated. A new sentencing date is yet to be confirmed.