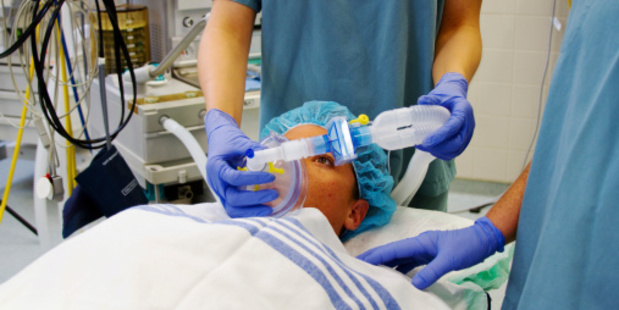 An anaesthetic technician who stole hospital drugs and was high while attending to a patient in theatre is one of 22 medical professionals found guilty of misusing drugs over 12 years.
Kristin Lawson's abuse was discovered when she collapsed in theatre as a patient lay on the operating table at Mercy Hospital in Epsom in June last year.
The hospital says none of its patients were affected by Lawson's actions and as soon as the offending was discovered she was suspended and an internal inquiry started.
It was revealed yesterday that Lawson has been struck off and censured by the Health Practitioners Disciplinary Tribunal.
Hers is one of 23 misuse-of-drugs cases involving doctors, nurses and pharmacists that have been heard since 2002. All but one of the accused were found guilty.
Lawson stole the painkiller Remifentanil, used in sedation and prone to causing dizziness, from her employer three times while on duty, once administering it to herself intravenously in the staff toilets.
She also took the drug home.
The tribunal cancelled Lawson's registration and censured her to express "significant disquiet" about offending it said put patients at risk.
Registered anaesthetic technicians played a pivotal role in providing for a patient and had to be alert, rested and able to deliver their service, the tribunal said.
It could not see a way for Lawson to continue in the profession because an anaesthetic technician had to handle and control drugs.
The offending, which spanned four months last year, was discovered when Lawson looked "sleepy" before she fell off her stool and hit her head on the floor while in theatre with the patient on June 25.
Senior staff who inspected the records found Lawson had destroyed multiple vials of the drug without following appropriate policy, including correct disposal.
She told the tribunal she began abusing drugs after she was involved in a traumatic car accident in February last year and suffered flashbacks, nightmares and insomnia. The drug helped her to "relax, sleep and forget".
But the tribunal said this could not excuse the serious misconduct of stealing the drug, using it at work and home, falsifying records to hide the offending, and trying to implicate colleagues.
Yesterday, a man at Lawson's West Auckland home said: "We've been through quite enough without having to go through this again.
"We choose not to make any comment at this point. It's far too much for us."
Mercy Hospital chief executive Dr Geoff Sparkes said Lawson had worked under the direct supervision of a consultant anaesthetist and would not have been in a position to give drugs independently to a patient.
Lawson is believed to be the first registered anaesthetic technician found guilty of misusing drugs since the profession became regulated two years ago.
She now faces court over the offending.
The tribunal ordered Lawson to pay $6600 - 25 per cent of the cost of the prosecution and hearing - after she said she had just bought into a catering franchise in the wine industry and had legal bills mounting for impending court proceedings into the offending.
Medical Association chairman Dr Mark Peterson said the number of medical professionals caught abusing drugs was low but it was still concerning.
"It's no worse now than it used to be. I think it's always been a problem but there's an element of vigilance and, to be honest, this person was picked up quite quickly, which is encouraging."
Dr Peterson said drug abuse was more difficult to monitor in theatre because drugs needed to be accessed frequently and it wasn't practical to require two signatures as in other hospital departments.
He said New Zealanders should not be alarmed at this case because in theatre, there were many doctors and nurses monitoring one patient.
"It's not as though in theatre there is only one person who is putting you to sleep. So errors are usually picked up very early."