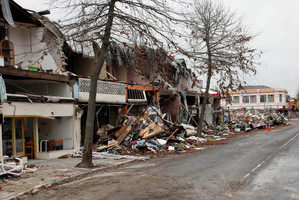 A Christchurch landlord who falsified earthquake repair claims - even using her cat's name to sign a forged invoice - has offered to repay all the stolen money in the hope of avoiding a jail term.
Sally Mengtung Ye, also known as Bayliss, 50, was found guilty on 34 counts of dishonestly using documents by forging invoices after a judge alone trial at Christchurch District Court earlier this year.
The court heard that after the 2010-2011 quakes, Ye lodged emergency repair claims for 11 rental properties owned by her, her mother, and partner, as well as one for her own home.
Ye falsified invoices by inventing companies or tradesmen, and even admitted signing off one invoice with the name "Andy" -- the name of her cat.
Some of the work had been carried out by tenants in lieu of paying rent, the court heard.
EQC paid out $12,895 for repairs, while a further $14,895 remained unpaid.
Ye was due for sentencing today but defence counsel Paul Johnson asked a two-week adjournment.
He said he'd just been assigned the case, and felt that Ye didn't fully understand what a home detention sentence would have entailed.
But having spoken to her, she says she would agree with the conditions.
Probation required two weeks to assess her house and to assess her suitability for such a sentence.
Mr Johnson said Ye is offering to pay reparation of $2000 immediately, and from then on $100 per week.
Judge John Macdonald was baffled by some correspondence that had been emailed to court staff where Ye talks of a conspiracy over her conviction, and claims of a "suitcase of documents" that she was allegedly unable to present at trial.
"Is she deluded?" the judge asked, even questioning if he should call for a report under the Criminal Procedures (Mentally Impaired Persons) Act.
Mr Thomson didn't think that was necessary.
Crown prosecutor Marcus Elliott didn't object to the delay in sentencing.
With "considerable reluctance", Judge Macdonald adjourned sentence until September 26, adding that by paying back the money, it would "help her chances" in avoiding jail.
- APNZ