Restoration of neglected grave a story for our times.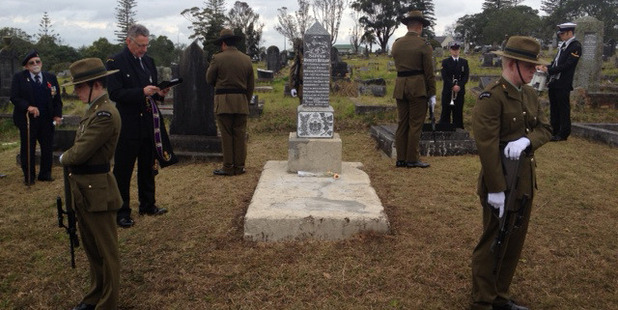 For generations that have not known war, our stories from exactly a century ago are an insight into what it would be like. None of the stories may be more telling than the fate of the grave of Sapper Robert Hislop at Waikumete Cemetery which describes him as "the first New Zealand soldier to give his life during the Great War".
Sapper Hislop did not die under fire on a distant battlefield as so many thousands would do in the next few years. He was in Auckland, one of three Territorials assigned to guard the Parnell railway bridge on the night of August 13 when he took a wrong step in the darkness and fell. He died six days later and was buried with military honours.
The story is poignant for what it says about August 1914. War had been declared at the beginning of the month. People would have been preparing for loss of lives though they would not have imagined how terrible it would be, or perhaps they feared the worst and were preparing for it.
Hundreds are reported to have turned out to see Sapper Hislop's cortege, escorted by a military band from Auckland Hospital to the railway station, many more than would be able to attend the funerals of most of the casualties of Gallipoli, Flers, Messines and other places with names they had never heard.
They were 14 years into a new century, living in a new technological age with recently discovered electricity, telephones and automobiles. Europe had not had a major war since the defeat of Napoleon 100 years before. The times were surely too "enlightened" for a war that would last four years and take such a toll.
If the description - first casualty of the war - bestowed on Sapper Hislop at his death, says much about those times, the restoration of his grave this month says something about today. His headstone at Waikumete had succumbed to the ravages of time, its inscription faded and covered in lichen, until his grand-niece, Susan Atkins, started researching her family history. Personal heritage has become a popular interest in an age of home computers and digitised data, particularly with military records online.
By the time Mrs Atkins discovered her ancestor's claim to fame, somebody had alerted the Ministry of Defence to the death of a 19-year-old from Palmerston North. Ludolph Edwin Wynn West died of pneumonia at Awapuni mobilisation camp on August 25, 1914, and in 2006 was declared the first casualty of the Great War.
Helped by the Herald and a manager at the Auckland War Memorial Museum who researches headstone histories as a hobby, Mrs Atkins was able to establish that Sapper Hislop died eight days earlier, and last week the NZ Defence Force gave him his due.
An army guard stood at attention around his restored grave on Tuesday while a bugler played the Last Post and Colonel Louisa O'Brien read a citation. Like countless other young men at that time, she said, he had eagerly and bravely stepped forward to serve his country. He had been a railwayman and his unit was the North Island Railway Battalion. When the main body of the NZ Expeditionary Force left in October, most of the 8417 volunteers were former Territorials.
A generation ago, it would have been hard to imagine the military going to so much trouble. The brass would have looked askance at the family research and grumbled at the suggestion that such an effort should be made to recognise an event so long ago involving a recruit who had not died in action. Times have changed. Women are army officers, sentimental gestures are important, requests are met if possible, and we have been at peace for a long time. Long may it remain so.