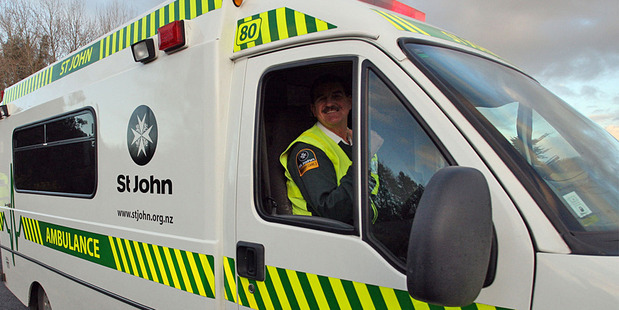 St John will recruit 158 additional frontline ambulance staff members by July next year, in the biggest recruitment in its history.
The move would improve service response times, reduce the number of single crews and improve patient and staff safety in 35 locations across the country, St John said.
The new positions would be funded by St John, Accident Compensation Corporation (ACC) and the Ministry of Health.
ACC had agreed to move from a model which saw St John invoicing the organisation for each accident related injury, to where it would now pay a fixed share directly to St John's national emergency ambulance operation.
In addition to funding for more frontline staff, the Ministry of Health had contributed to the Auckland 111 Clinical Hub initiative, which would help with the management of non-urgent incidents through telephone advice.
St John had completed detailed analysis to understand how ambulance resources matched actual patient demand, St John chief executive Peter Bradley said.
"This work led directly to a commitment from St John to fund additional frontline staff and to make a number of staff roster changes.
"We are now partnering with ACC and the Ministry of Health to build on this commitment -- to respond to demand, to deliver a good value, sustainable service and to be able to deliver the best possible patient care."
The new funding model would also help St John deal with organisational priorities and prepare for the longer term, he said.
"It's another step to achieving our ambition of right care, right time. This is also the biggest recruitment of additional ambulance staff in our history."
In late 2012, St John announced sweeping changes, which meant ambulances were no longer sent to minor 111 calls, to help stem its $15 million-a-year loss. Instead, such calls were redirected to a GP or other health care, or a St John officer would be sent in a car -- rather than an ambulance with two crew members.
Another change to reduce the workload for ambulance officers was in the way 111 calls were handled.
Earlier this year an internal report aimed at improving ambulance service found St John was failing to get to emergency callouts in Auckland and some rural areas inside the time limits set for it.
Staff funding and how much it costs:
* 57 will be funded by St John - $4 million a year, from fundraising and commercial activities
* 82 from additional ACC funding - $5.5 million a year
* 19 from additional MoH funding - $1.3 million
- APNZ