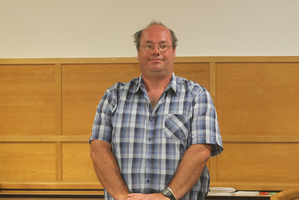 A long time Child Youth and Family activist says the man accused of trying to get a hitman to murder his parents offered him $150,000 to arrange the hit.
Tauranga security guard Alan Barlow is on trial in the High Court in Rotorua, accused of trying to organise an undercover policeman to murder Kevin and Diana Barlow in October last year.
Activist Daniel Ryder says he was approached by Barlow in August 2013, and was told there was an unsafe CYF house and the two people running it needed to be killed.
Mr Ryder said he was offered $150,000 to arrange the murder of his parents, which prompted him to contact the police.
He said through his activism Facebook page he knew a number of people who could possibly organise such a hit, and he wanted to make sure it never happened.
Barlow's mother Diana broke down in tears a number of times as she gave evidence today.
She said Barlow lived with her and her husband in Invercargill until July 2013 when they had a major falling out.
She told the court it was written in her will that if she and her husband died, Barlow would get their house.
The police summary of facts said 43-year-old Barlow asked the undercover officer if he could make the hit look like an accident.
The maximum penalty for attempting to procure murder is 10 years in prison.
The trial continues.