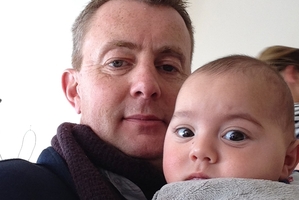 The father of murdered Kiwi teenager Emily Longley has found happiness again with the birth of his first son.
Mark Longley's daughter Emily, 17, from Auckland, was killed by boyfriend Elliott Turner in Bournemouth, England, in May 2011.
Longley told the Herald on Sunday he is now rebuilding his life with new partner Hilary Upton and their five-month-old baby boy Hunter.
He described his new son as "our ray of sunshine through the gloom".
Longley shifted from Whakatane to Milford on Auckland's North Shore two months ago.
His eldest daughter Hannah, 19, a student at AUT, has also moved in to be close to her new brother.
"We are now focusing on the new baby. Emily would have loved him," Longley said. "She is still his big sister, even though she is not here."
Turner is serving a life sentence for strangling the former Westlake Girls and Takapuna Grammar student in a drunken fit of jealous rage at his wealthy parents' home.
Longley is separated from Emily's mother Caroline. The couple put their lives on hold for a year while they sought justice for their daughter in England.
Longley, a former journalist, has started his own media company called EKL Consulting. He named the business using the initials of his slain eldest daughter.
"Emily would have liked it that I named my business after her," he said.
"It is important for me to have strong connections with her wherever I can in life."
Emily's high-profile killing is featured in a TV documentary Mummy's Little Murderer to be screened in New Zealand on Sky on September 18.