Forestry foreman Major Nelson was sentenced in Rotorua this week for his part in the tragic death of Robert Ruri-Epapara, an accident that happened in March last year. Judge Chris McGuire has condemned the time taken to resolve the case — saying it added to the suffering of all involved.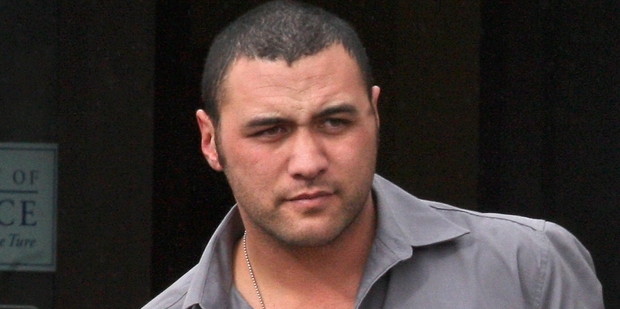 There were few dry eyes in the courtroom as Robert Ruri-Epapara's parents spoke of the impact of losing their son.
Mr Ruri-Epapara was 23 when he was killed while working in the Waione Forest near Lake Rotoiti on March 26, 2013. His crew's 26-year-old foreman Major Nelson had felled a tree further up the slope that struck Mr Ruri-Epapara on the head. Nelson had radioed other workers - Mr Ruri-Epapara didn't have a radio - to check on his mate's location and believed it was safe to proceed.
In the Rotorua District Court on Wednesday Nelson pleaded guilty to a charge under the Health and Safety in Employment Act 1992 that he, as an employee, failed to take all practicable steps to prevent an action of his at work, namely felling a tree, from causing harm to Mr Ruri-Epapara.
He was fined $35,000 and ordered to pay reparation of $15,000. Complete Logging Ltd, of which he was a director and 40 per cent shareholder, had already been fined $60,000 and ordered to pay $75,000 reparation.
Judge speaks out
After handing down the sentence, Judge Chris McGuire said there was something else he wanted to say.
"This accident, this tragedy, happened on 26 March 2013. That is almost 18 months ago. Everyone in this courtroom is the loser on account of the effluxion of time," he said.
He said Mr Ruri-Epapara's family and friends had been hurting for almost 18 months, as had Nelson. Defence lawyer Hamish Evans had earlier told the court Nelson had sought counselling after feeling like a "headless chook" since the accident that killed his close friend.
The Ministry of Business, Innovation and Employment (through WorkSafe) has six months to decide whether to lay charges after a workplace accident. Judge McGuire said he understood the need for a thorough investigation but questioned how long that should take.
"I can't understand why these matters have to take so long," the judge said. "I should have thought that a focussed investigation of a tragedy of this kind should be able to be completed within three months and charges laid if that is the outcome."
He said criminal procedure requirements would account for a further three months.
"But I see no earthly reason why a prosecution of this kind should not be before the courts and ready to be set down or dealt with on a guilty plea after six or a maximum nine months."
Judge McGuire said judges in the Rotorua region had taken this concern into their own hands when it came to road fatalities.
On the day the charge was laid, it was passed immediately to a judge to timetable and deal with as a priority.
"I see no reason why a similar process should not occur with these sorts of cases," he said.
The unknown factor
Mr Ruri-Epapara's stepfather Wiremu Edmonds said Judge McGuire was "100 per cent right".
"When you are unsure of facts . . no one is talking to you about what's going on, there's speculation, different versions. It affects the whole family environment."
The families had, prior to the accident, been friends. But the circumstances and the waiting had taken its toll, Mr Edmonds said.
"[I feel like] the system has pushed us apart. In the future [I hope] there could be a system to help both families."
His wife Marsella Edmonds said Nelson's original not guilty plea had left them confused, frustrated and "in limbo".
Mana Social Services is a Rotorua organisation that works closely with victims of crime and their families.
Director Theresa Heywood said it was often the "unknown factor", not knowing what was happening, that was the hardest when cases dragged on.
There was also financial stress, the time and energy of dealing with the process plus the trauma of having to retell their story "over and over", she said.
"Some families are unable to grieve for loved ones that have passed where there are lengthy court cases."
Efforts underway
WorkSafe New Zealand's chief legal adviser Michael Hargreaves said they always tried to complete investigations in a "timely manner".
"[Worksafe] acknowledges that the length of time it can take to complete prosecutions can be difficult for victims and their families."
It had up to six months to lay charges but always made the decision "as soon as it can in the circumstance of the case", he said.
Mr Hargreaves said as Nelson initially pleaded not guilty, that put the matter on a longer track. By comparison, Complete Logging Limited pleaded guilty and was sentenced in January.
Ministry of Justice general manager, district courts, Tony Fisher said the Ministry was working to reduce the time cases took to move through the courts and the Criminal Procedure Act 2011, which came into force in July last year, was designed to allow this to happen.
"The Act will result in fewer wasted appearances, quicker resolution of cases and a generally more comprehensible and efficient system," he said.
"There are still cases in the system pre-dating the Act's implementation, but early indications are that it is making the court process more efficient."
He said as at December 31, 2013, the average age of active criminal cases in the Rotorua District Court was 79 days, down from 103 days seven years earlier.
Moving forward
For the past eight months Mr and Mrs Edmonds have been travelling the country talking about safety: 56 presentations, 6382 people, 45 flights, 38 cities, 33 companies, 1200 plus kilometres driving. "Robert's death will not be in vain . . . What happens from here will be the difference," Mrs Edmonds said.
For more articles from this region, go to Rotorua Daily Post