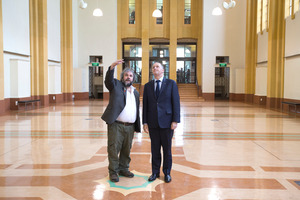 Film-maker Sir Peter Jackson has been enlisted by Government to curate a temporary World War I exhibition in Wellington.
Prime Minister John Key revealed plans this morning for the commemorative exhibition, which will be based at the Dominion Museum Building at Massey University.
Arts Culture and Heritage Minister Chris Finlayson said the exhibition would source artefacts from private collections, the Auckland War Memorial Museum and the Army, Air Force and Navy service museums.
Mr Finlayson said: "The creative skills of Sir Peter will ensure the temporary museum captures stories of World War I in a way that is inclusive and innovative."
It was being developed in partnership with Weta Workshop, Wellington City Council and the Defence Force and was scheduled to open in April as part of the First World War centenary commemorations.
The Dominion Museum Building sits behind the National War Memorial and overlooks the War Memorial Park, which is scheduled to open on Anzac Day.