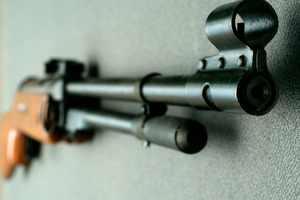 An Oamaru teenager who shot an air rifle pellet into the head of a 13-year-old was asked to do so by the victim, the Oamaru District Court heard yesterday.
Tyrone Ivan Gosling, 17, farm worker, of Oamaru, appeared before Judge Joanna Maze on charges of committing a dangerous act with intent to injure, possessing an air gun without a licence, supplying cannabis to a minor and supplying alcohol to a minor.
The court heard Gosling had been at his Five Forks home, on July 27, where he had four people with him, aged from 12-14, who had stayed the Saturday night.
He had in his possession a .177 calibre air rifle, but did not hold a firearms licence.
Police prosecutor Tim Hambleton said the young people consumed unknown amounts of alcohol Gosling had supplied them with.
Gosling also supplied a small amount of cannabis to a 13-year-old at his house.
About 3pm, Gosling was sitting in the lounge with a 13-year-old boy, when Gosling deliberately shot him in the head.
The pellet lodged in the victim's scalp, but the injury was minor in nature and did not require stitching.
In an explanation to police, Gosling said the victim told him to shoot at his head, knowing the air rifle was loaded. Gosling did not think the pellet would penetrate the victim's cap.
Asked about possessing the rifle without a firearms licence, Gosling said he was not aware it was required for an air rifle.
He admitted supplying alcohol to the minors and supplying cannabis to a 13-year-old boy.
Judge Maze convicted him on all charges, and remanded him on bail to reappear in the Oamaru District Court for sentencing on October 22. He was referred for restorative justice.
Judge Maze said the permanent damage to adolescent brains from alcohol and cannabis Gosling's responsibilities were topics needing to be addressed.