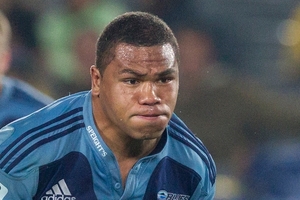 Blues rugby player Peter Saili is alleged to have beaten a 13-year-old boy whom he caught burgling his home.
Saili is under investigation by police after the incident in Weymouth on June 19.
The teen claims the much larger rugby player punched him in the head, stomped on his head after he fell to the ground, then threw him off the deck.
Saili allegedly paused the attack to call police, then it is claimed he continued to hit him with a vacuum cleaner pipe until he lost consciousness.
The boy was treated at the scene by paramedics before being taken to Middlemore Hospital in a serious condition.
He said he woke hours later, suffering from a perforated eardrum and a badly swollen face.
He spent four days in hospital and had a month off school to recover.
He said he still suffered dizzy spells. "I don't even remember much."
The boy told the Herald on Sunday he had been encouraged to go into the home by two older mates who fled before Saili returned, and had no idea it was owned by the powerful No 8.
He had been about to leave the house with a pair of shoes and some other items when Saili returned.
The teen's brother, 20, said the family were distraught at what had happened.
"My dad was standing right there when the ambulance came to take him away but we had no idea.
"Then the police came and told us. My dad nearly collapsed when he heard."
The older brother said he was "pissed off" about the alleged viciousness of Saili's reaction.
"He should have left it to the police. He went too far."
He said police told him Saili may not face charges.
"We heard he was worried about the effect it would have on his rugby career. He should have thought of that before."
Detective Inspector Dave Lynch said the police investigation was finished and a file was being prepared for legal opinion. Saili bought the home in Weymouth last year.
Saili did not respond to interview requests.
Under the Crimes Act, a person finding a burglar on their property may make an arrest until police arrive.
Reasonable force is permitted in self-defence, and people are justified in using "such force as is necessary" to prevent the forcible breaking and entering of their home.