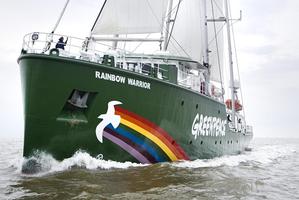 Greenpeace can now register as a charity, the Supreme Court ruled today.
This comes after a previous application to register Greenpeace as a charity was dismissed because it was found to be too political and its protests could land the organisation on the wrong side of the law.
Today the Supreme Court found that political advocacy for a charitable undertaking was allowed.
In light of this decision, Greenpeace would now have to the right to apply to the Charities Board, formerly the Charities Commission, for reconsideration.
This decision made New Zealand democracy a little stronger, Greenpeace's executive director Bunny McDiarmid said.
"It means that the Supreme Court has now recognised that trying to change our world for the better, and taking on government to do that, is a public good.
"This has been a legal marathon, and it's great to see that New Zealand democracy took out the gold."
On their website today, the Charities Board said it appreciated the clarity the Supreme Court had provided on the issues raised before it.
"The independent Charities Registration Board and the Charities Services registration team will study the judgment closely.
"Any changes brought about by this decision will be communicated with the sector in due course."
Greenpeace had been involved in a lengthy court battle since applying to be registered as a charity in 2008.
The application was declined by the Charities Commission, on the basis that two of its objectives were not charitable.
The Commission said the promotion of disarmament and peace was not charitable, and activities carried out by Greenpeace could entail illegal activity which was also found to be neither in the public interest nor charitable.
Greenpeace then appealed the decision to the High Court and then again to the Court of Appeal, before a judgement was made at the Supreme Court today.
The Department of Internal Affairs said there were currently 27,311 registered charities in New Zealand.
"Over the last 12 months, we approved approximately 1480 applications for registration and declined another 140 or so."
It was possible that some of those declined might choose to provide additional information or clarification and re-apply, the department said.
- APNZ