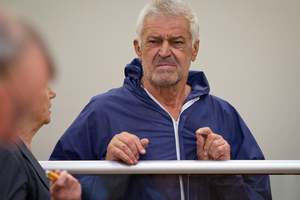 A 71-year-old Auckland man charged with the murder of a 77-year-old will not stand trial because of his mental illness.
The case of Zijad Garibovic was called in the High Court at Auckland today but the defendant was too unwell to be present.
He is accused of killing Roy Eric Lowe, who died after an attack on April 4 at Merton Village, St Johns - a cluster of Housing New Zealand units for pensioners.
During today's brief hearing, Justice Graham Lang referred to two mental health reports , both of which recommended Garibovic remain in the Mason Clinic.
"The doctors make it clear this is a non-reversible form of illness," Justice Lang said.
"He suffers from an advanced form of dementia, similar to Alzheimers, which will only get worse in future."
He was unable to understand the court proceedings or instruct his lawyer John Anderson, the court heard.
To complicate matters Garibovic had recently suffered heart problems that the judge said had heightened his psychological issues.
Justice Lang said he had no hesitation in finding him unfit to stand trial and accordingly vacated the October trial date.
Garibovic will remain in the Mason Clinic until authorities are convinced his mental status improves to the point where he could stand trial.
Because of the degenerative nature of his mental illness, Justice Lang said that was unlikely to happen.
- APNZ