Hundreds said to have left but high birth rate keeps Christian community growing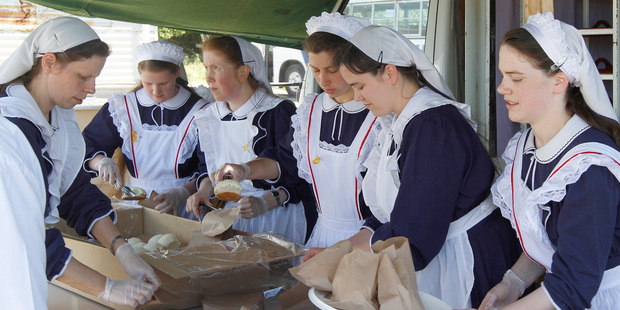 The high number of babies being born in a reclusive Christian community on the West Coast is likely to offset any exodus, says someone who left.
Former members of the Gloriavale Christian Community in Haupiri, which has about 530 members, have spoken out about a steady stream of people leaving.
Those who live in the community adhere to a strict way of life, dominated by biblical values.
Read TV blogger Paul Casserly's review of the Gloriaville documentary here
A documentary about a young couple in the community, screened on TV2 this month, gave an insight into life in the community.
One ex-member, who did not want to be identified, said there had been a steady flow of people leaving the community in the past three years.
"There's been occasions where families have left. They're all big families, so that might be 10 people, and there might not be anyone for a few months and then a teenager might leave," he said.
"I would definitely imagine over the last three to four years it would be close to being in the hundreds."
Despite that, the Gloriavale population was still flourishing, he said.
"They're having a pretty high number of babies. I would say the community's growing, I would say there's more births happening in there than people who are leaving."
Those who did leave had to adopt a new way of life, which was a huge challenge, he said.
"All of this outside world is more and more foreign to them because you've got generations who have been in there now and they have no concept of the outside world. [Things like] getting the bank account, needing to use money, it is very difficult for people when they leave."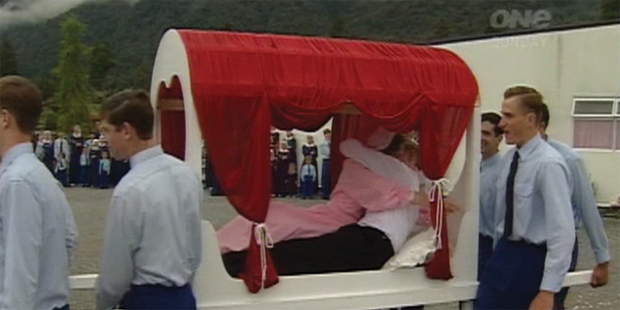 A couple kiss after getting married at Gloriavale. Photo / TVNZ file
Ex-members also had little access to those they left behind.
"On the odd occasion, they will allow someone to come back in and make their final choice ... but once you've left, then you know you've left and you've been excluded. You can't ... have both worlds," he said.
The absence of freedom of choice was its downfall, he said.
"The fact that everyone works cohesively together, the fact that people share everything, so you don't have people who are living in poverty and people who are living in extreme wealth," he said.
"But one of the fundamental parts of being a human being is our freedom to choose, choose what we want to do, how we want to live, where we want to live, who we want to marry.
"That's why we [his family] decided to leave the community," he said.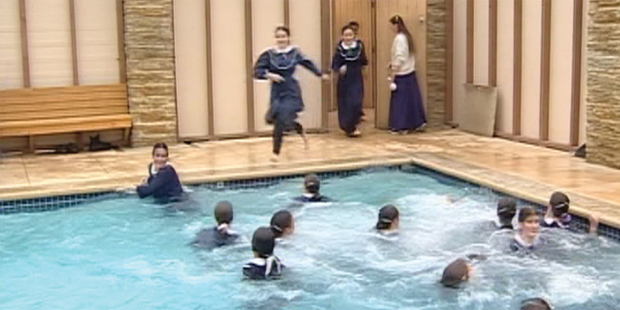 Children swim fully clothed at Gloriavale. Photo / TVNZ file
Another former member, who also spoke on condition of anonymity, said the "freedom I have found in Christ ... since leaving is something I would never exchange for community life".
Peter Righteous, a member of the Gloriavale community, said he had no records about how many people had left in the past few years.
Gloriavale Community
• About 530 current members.
• Christian community founded in 1969.
• Relocated from its original site near Rangiora to Haupiri on the West Coast in 1991.
• The Haupiri site property was named Gloriavale in honour of founder Neville Cooper's wife Gloria.
• Community formerly called Springbank Christian Community.