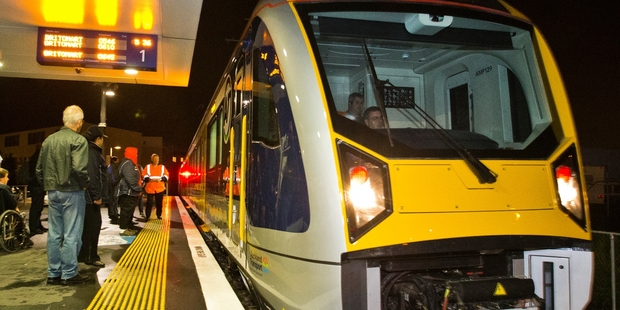 Auckland's flash new electric trains have been grounded by power faults which are mystifying the region's transport authority.
Four of the state-of-the-art Spanish-built trains were disabled in one stroke this week due to power failure.
They have been replaced on the Onehunga-Britomart run since Tuesday by their diesel predecessors, and Auckland Transport says it could take several more days to identify and fix the problem.
But Auckland Council infrastructure chairman Mike Lee says the "bizarre and unacceptable" irony is the old diesels are running at faster speeds than the electric trains were allowed to reach.
The trouble has struck just weeks before more trains in what will ultimately be a 57-strong fleet costing the council and the Government $540 million are due to start running between Manukau and Britomart via the eastern line through Panmure and Glen Innes.
Auckland Transport chief operations officer Greg Edmonds said the $1.14 billion electrification programme - on which the Government has also spent $500 million on power supply and signalling infrastructure - remained "on track" for trains to run from Manukau from mid-August.
"We are working to get to the bottom of the problem - this is a process of elimination," he said yesterday. Mr Edmonds said "intermittent power issues" shut down the engines of four trains which were running on Monday afternoon between their new $100 million Wiri depot and Britomart to collect homebound commuters.
Although they were re-started almost instantly, power was cut again on Tuesday, after which all six electric trains on the Onehunga roster were taken out of operation and replaced with diesels.
Buses had to be put on rail routes until the diesel fleet could be drafted back in.
Another Auckland Transport spokesman said it was too soon to consider whether there was a case for compensation from suppliers.
Mr Edmonds said special measuring equipment had been installed at both of the electrification system's two power supply substations, and on the trains themselves, ready for simulated services to be trialled last night.
"We need to get to the root of the issue, but just as importantly we must ensure services run reliably for our customers. So as not to inconvenience customers, we have decided to run diesel units."
There had been no safety concerns associated with the power failures, nor any damage to the trains.
"They operated exactly as they're designed to do when there is a power problem," he said.
Mr Lee rejected his description of the problem as involving "minor issues" but accepted those were to be expected with the introduction of new trains.