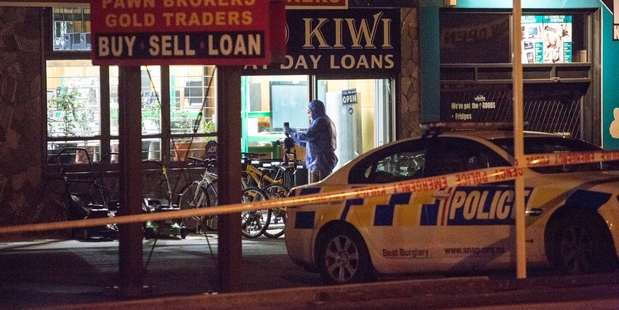 A woman believed to be the wife of a slain pawn shop owner broke down with emotion after visiting the site today.
Flowers have been left outside the Ezy Cash loan store on Great South Rd, Takanini after the alleged murder of the store's owner Paul Fanning, 69, and employee Paul Matthews, 47.
Watch: Two killed in pawn shop attack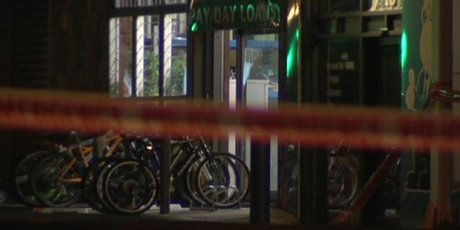 Nick Hubbard, 20, who lives with his family across the road from the store, said a woman he believed to be Mr Fanning's wife had visited the store since the crime.
Mr Hubbard said his mother Donna comforted the woman after she became hysterical.
"She was there crying and she fell to her knees ... mum went over to help ... it's shocking, so close to home."
Mr Hubbard said Mr Fanning was a well-known and popular member of the community and could regularly be seen in front of his store.
A 25-year-old man has been arrested and charged with two counts of murder and will appear in Papakura District Court tomorrow.
Police were called to the store at 1.10pm yesterday after a panic alarm activation. They found the two dead men at the back of the premises.
At a press conference today Detective Inspector Dave Lynch said police had also found an item of interest, which would undergo a forensic examination.
He would not say what the item was, but said it was a "sharp object".
Police would not reveal how the pair were killed, but said they died violently.
A man and a woman were believed to have been seen leaving the premises just before police arrived on the scene.
The woman, who was believed to have been driving the pair's get-away vehicle, was being treated as a witness and was helping police with their investigation, Mr Lynch said.
The arrested man was captured in Huntly about midnight last night.
Police still did not know if anything was taken from the shop, but there was no indication the incident was part of a robbery.
The woman knew both the victims, but it was not yet known if her partner knew them as well, Mr Lynch said.
He would not comment on why the woman was not facing charges.
"She's assisting us with our inquiries and once we've got a fuller picture on what's occurred then certainly we'll make any relevant decisions (about further charges)."
Police were not looking for anybody else in connection to the deaths. But they were seeking further help from the public in relation to Silver 2003 Mitsubishi Colt Hatchback that was driven by the pair, in order to establish the route they drove to get to Huntly.
The car was believed to have travelled from Takanini out to the Avondale region, possibly stopping at the Avondale Racecourse and then to Papakura and then Huntly, Mr Lynch said.
While in Auckland it had a large For Sale sticker on the rear window, which had been removed by the time it reached Huntly.
Police were also looking for a brown coloured 'Dickies' hooded top that may have been discarded around the Avondale racecourse, Mr Lynch said.
The top was likely to have visible blood on it, and should not be touched.
"It's market day there today and there's going to be a lot of people there, but we're asking them to keep their eyes out and if they do see such an item to ring 111 and leave it [the hooded top] undisturbed."
Anyone with information should call Counties Manukau police on (09) 261 1300 or Crimestoppers 0800 555 111.
- APNZ