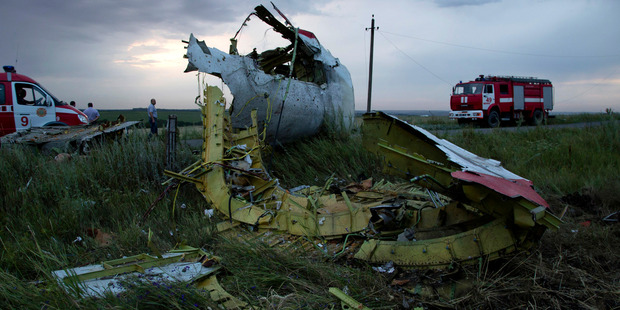 Auckland aviation expert Irene King says the "thugs" who shot down the Malaysian airliner will never get away with claiming they thought their target was military.
"There were civilian aircraft going over there all the time, so to say they thought it could have been military would be just an excuse," she told the Weekend Herald.
"They would be pretty well-versed that it wasn't a military jet.
"They are just absolute criminals and thugs to shoot down something like this - it's a game-changer."
Ms King, a former Aviation Industry Association chief executive, said she understood Malaysia Airlines was one of eight or nine civilian carriers which until yesterday flew over rebel-held eastern Ukraine above a no-fly zone of 32,000ft (about 9754m).
But she said only a week ago the zone was lifted from about 24,000ft after a risk assessment of weaponry believed to be on the ground.
That proved inadequate after flight MH17 with 298 people on board was shot down from 33,000ft by what is feared to have been a Buk missile capable of reaching more than 70,000ft.
A global "real time" map of air movements last night showed there were no flights over the disputed territory, although aircraft were plying routes further south over the Black Sea.
Read also:
• Black humour turns chillingly accurate
• Malaysia PM says route was deemed safe
• US, West leaders delve for facts
Air traffic agency Eurocontrol said it was now rejecting all flight plans filed using routes over Ukraine, which were closed "until further notice".
The agency said that would affect about 300 flights a day, even though pilots and airlines had previously been warned to avoid Ukrainian airspace.
British aviation security expert Norman Shanks said Malaysia Airlines was among a number of carriers that continued to use the route to save fuel. That was despite two Ukrainian military aircraft having been shot down in the past week, and a third was damaged by a missile.
Immediately after yesterday's crash, four more civilian aircraft were believed to have followed the same path, including those of Singapore Airlines and Emirates.
But Qantas and South Korea's two main airlines, Korean Air and Asiana, said they had all re-routed flights in March.