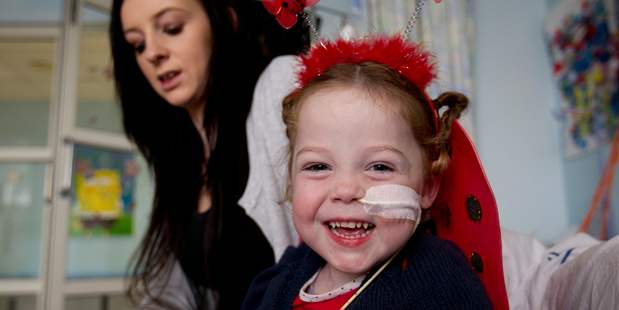 An Auckland youngster born with a bowel outside of her body has been living in the UK for the last year waiting for a $1 million transplant operation.
Madison Merrick, 4, and her mother Alana have travelled 18,000km in the hope of getting a normal life.
Read more: Madison's hope lies in bowel transplant
They have been waiting for a bowel donor to come forward before the specialist transplant can go ahead at Birmingham Children's Hospital.
"A new bowel would mean she could grow up to live normally -- otherwise, we're looking at a lifetime in and out of hospitals," Mrs Merrick told the Birmingham Mail newspaper this week.
"It is difficult living away from home for so long and not knowing when we will be returning to New Zealand." Madison was born with gastroschisis, a serious hernia in which the bowel protrudes from the body.
An operation when she was a few hours old left her with short-gut syndrome, which means she is unable to eat and is fed intravenously.
Only two other New Zealand children have had the transplant. One did not survive.
Madison and her 22-year-old mother flew to the UK last May.
The youngster has undergone 12 months of testing and only now has been placed on the transplant list.
But she has been told it could be another year before an organ becomes available.
She will then have to stay in Birmingham for at least six months after the procedure to ensure her body does not reject it, the paper reports.
"A transplant would be something worth waiting all the time in the world for," Mrs Merrick told the Mail.
"I have the support of a couple of relatives over here and I have met some wonderful people who have become great friends.
"But I will stay here for as long as is required.
"Birmingham Children's Hospital is widely regarded as one of the best in the world and I am delighted she is in the best of hands here."
The Ministry of Health in New Zealand is picked up the NZ$1 million cost of Madison's treatment and UK accommodation.
Mrs Merrick is fundraising for living expenses.
"Madison is such a happy little girl," she said.
"She loves dancing, dressing up and playing with her dolls and toys.
"But this operation is essential for her to grow up and live a normal life."
A friend, Joanne Franks, who made contact after following a Facebook appeal for Madison, is leading the fundraising campaign.
"Madison is a lovely girl and it has been so difficult for them both to come to a new country on their own," said Ms Franks.
"I wanted to do all I could to help them settle in and raise money for Alana and Madison's living expenses."
• To donate to Madison's cause go to her website or Facebook page.
- APNZ