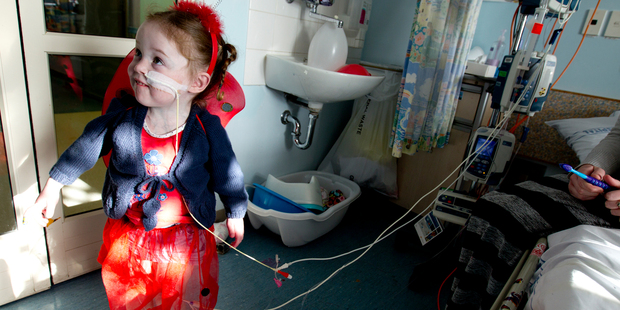 Like many 2-year-old girls, Madison Merrick loves ballerinas, dancing and dressing up - but she needs a bowel transplant to save her life.
Madison was born with gastroschisis, a serious hernia in which the bowel protrudes from the body.
An operation when she was a few hours old left her with short-gut syndrome, which means she is unable to eat and is fed intravenously.
"My tummy gets sore lots," says Madison.
For the chance to live a normal life Madison needs a bowel transplant, which is a procedure not available in New Zealand.
Only two other New Zealand children have had the transplant. One did not survive.
Mum Alana Merrick is clear on the effect the surgery would have on Madison's life.
"A new bowel would mean she could grow up to live normally - otherwise, we're looking at a lifetime in and out of hospitals."
This year, the North Shore toddler has been plagued by serious infections from her intravenous feeding lines. She is running out of suitable veins to be fed through and without these she might starve.
The family is hoping Madison will be able to have the surgery at Birmingham Children's Hospital within the next year and have applied to the Ministry of Health to fund the million-dollar transplant. If successful, the money will come out of the Ministry's high-cost treatment pool, which funds one-off treatments not available in New Zealand's public health system.
"With our relatively small population, there's not the volume to maintain expertise for certain medical treatments," said Anna Chalmers from the Ministry of Health. "We average about one bowel transplant a year."
Once Madison arrives in Britain, she will need to wait for a bowel match to come available.
"Nobody knows how long we will be there before the right match comes up; it will just be a waiting game," Alana Merrick says.
She is fundraising to help pay for living and travel costs as she won't be eligible to work.
Initiatives include a Facebook page and a sponsored fun run.
Madison will need to stay in Britain for a minimum of two years after the transplant in case of complications.
Dr Kiki Maoate, a paediatric surgeon at Christchurch Hospital, says that it is difficult to transplant organs into young children because of their size and lack of physical maturity.
"If successful, the expectation is that the transplanted organ will grow with the child as they get older."
Alana Merrick is apprehensive about moving to a new country, but she says she would be willing to do anything if it means Madison could have a normal life.
"A chance for her to grow up would make everything worth it."