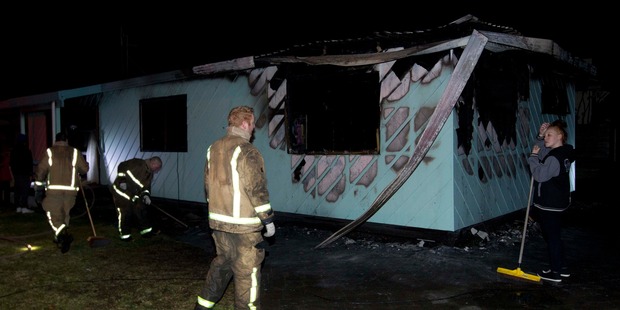 An elderly woman says she is lucky to be alive after two police officers rescued her from her burning Tauranga home.
The 77-year-old, who did not want to be named, is recovering in hospital following the blaze, which was caused by an electric blanket.
The fire is believed to have destroyed her Maranui St, Mt Maunganui, home after it took hold around 7pm yesterday.
In a statement issued by Tauranga Hospital, the woman said she wanted to thank the two police officers for saving her life.
Senior Constable Adrian Oldham came across the burning house while on patrol and Constable Shane McCarthy later came to his aid to help lift the woman out of a smashed window.
"He was just absolutely amazing. I could not have wished for anybody better," the woman said of Mr Oldham.
"If I had passed out and nobody had been there I wouldn't be here now. He saved my life and it was my lucky day.
"I think God said, 'we don't want her to leave just yet'."
The speed of the fire had overwhelmed her, she said.
"I was just turning the electric blanket off and I flicked the control and it ignited in my hand. I hurried into the bathroom and put a towel in some water to try and douse the flames, but by the time I got back it had already spread too far. The whole bed was alight," she said.
"I went to the bedroom window and saw the policeman coming over.
"The smoke was getting thicker and next thing I was on my back overcome by it and must've passed out.
"That's the last I remember until I heard somebody saying: 'Here's the ambulance, we're taking you to hospital'."
The Papamoa woman also thanked friends and neighbours who had come to her assistance since the fire.
The hospital described her as being in a stable condition.
The pensioner was "very, very lucky", a neighbour said.
Jan Connery, who lives next door to the woman's house, was alerted to the fire by a banging noise, which is believed to have been Mr Oldham banging on the ranch slider doors as he tried to rescue the collapsed grandmother.
"I looked out the front and, oh my God, I sort of tore over there. There were flames coming out of the bedroom and they had to break in to get her out," she said.
"The police were arm-in-arm bringing her out."
The house was "a pretty write-off", she said.
Mrs Connery believed her dog had sensed something was wrong shortly before.
"My little dog had just gone outside and she was barking strangely .... It wasn't until this morning when I thought about it, I think she could sense something was happening."
She described the woman as a "very good neighbour", who has a daughter and grandchildren.
The two police officers who saved the elderly woman were praised by the police commissioner as having "acted in the finest traditions of the New Zealand police".
"We put victims at the centre of everything we do and these two police officers have demonstrated this through their selfless actions last night," Commissioner Mike Bush said.
"Every day I see the outstanding work which the men and women of New Zealand Police undertake to keep people safe in their communities. Last night's rescue could not be a better demonstration of this."
He had spoken to both the men and thanked them for their brave rescue, he said.
"I wish them and the occupant of the house a speedy recovery from their ordeal."
When Mr Oldham came across the burning single-storey house he initially tried to get in through a ranch slider, but as the elderly woman attempted to unlock it, she collapsed and fell back into the smoke-filled room.
The officer unsuccessfully attempted to break the door, before smashing a window to get inside.
It was difficult to find the woman because thick, dark smoke had filled the room, police said. It was only on his second attempt that he found her lying on the floor, and pulled her to the window.
Mr McCarthy then arrived and helped his colleague lift the woman out through the smashed window to safety.
Mr Oldham, who was treated for smoke inhalation, will speak to media at a press conference tomorrow afternoon. Mr McCarthy has indicated he does not wish to speak to media, a police spokeswoman said.
Read more:
I've never felt fear like it, says hero cop
Brave truckie helps woman on the edge
Pilot pivotal to daring rescue