Modest policeman who also helped save a woman 16 years ago says any anxiety quickly disappeared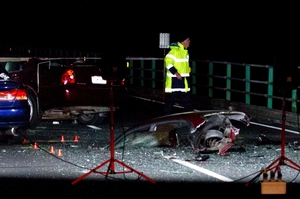 The hero cop who dived from a bridge in his underwear to save a crash survivor struggling in the water says he has never felt fear like it.
Constable Deane O'Connor of Tauranga yesterday described his instinctive decision to leap from Maungatapu Bridge after a three-car crash on Monday night.
The father of four arrived at the bridge just minutes after a sedan crossed the centreline halfway along and hit an oncoming van, shunting it through a barrier into the harbour below.
As he got out of the car, bystanders were telling him that someone was in the water, going under and screaming for help. "I went to the bridge, someone had a torch on him and I saw him go under the water and then come back up again. I just started stripping down," the 53-year-old officer said.
"I could hear someone saying, 'Someone has to do something', and some people saying, 'You can't go in, you won't make it', and I kind of just ignored that.
It was a calculated risk - I assessed the situation pretty quickly.
"I don't think I ever thought I couldn't do it. It's hard to explain.
"I've never felt fear like it. I was shaking and am not sure whether that was the cold or the anticipation of what I was about to do.
"It was only when I climbed over the rail that I actually started thinking, 'What am I doing?' and then I saw him go under again and for that split second, everything went calm and I just jumped."
Mr O'Connor said helping the survivor in the water was made more difficult by the fact that the man's friend Gregory Woledge, 24, who had been in the driver's seat, was gone.
He did not consider himself a strong swimmer, and credited his own survival to the man he helped to save.
The pair talked about "all sorts" over the half hour they struggled in the current, with a focus on keeping each other calm.
"I knew I could last as long as my body would let me; I wasn't tired at all. He pretty much helped me get out in a sense. It's quite scary; you're really fighting that urge to panic and all my talking to him was actually helping to keep me calm."
He had been overwhelmed and "humbled" by the many messages of support he had received. "I don't like being in the limelight; I struggle with this kind of thing and if I could hide under a blanket I would."
But he said his thoughts were with Mr Woledge's family.
"It's very hard because you feel elated that someone has survived, but you also can't help feeling for the family who have lost someone, especially someone who is a young dad.
"I've got four kids and I'd be devastated. My heart goes out to his family."
In 1997, Mr O'Connor - then working as a tradesman - arrived at a serious crash in Maungatapu, not far from the scene of Monday's incident.
Two cars were wedged together - one was on fire - and Mr O'Connor and another passerby, Paul Llewell, could hear a woman's screams coming from the other vehicle.
Working quickly, the two men tied a strop to the back of Mr O'Connor's four-wheel-drive and pulled the woman's car from the burning vehicle, saving her life.
"You touch wood that you never have to be tested," Mr Llewell said, "and if you do, you hope you pass - and I'd say he [Mr O'Connor] was absolutely of that calibre."
From talking with him afterwards, he remembered Mr O'Connor as a modest man casual about his actions.
"He's put someone's life before his own and now he's done the same thing again - he's reacted, but obviously he was just a little bit more involved this time.
"He'd just be happy to be in a position where he was able to do something, rather than just be in one where he was helpless."
Police are still investigating the cause of the crash, and a 45-year-old Papamoa man whose vehicle suddenly swerved into oncoming traffic, shunting the van off the bridge, remained in Tauranga Hospital.
A funeral for Mr Woledge is scheduled for early next week.