Cleaning family's rentals led JUCY boss to his very own dream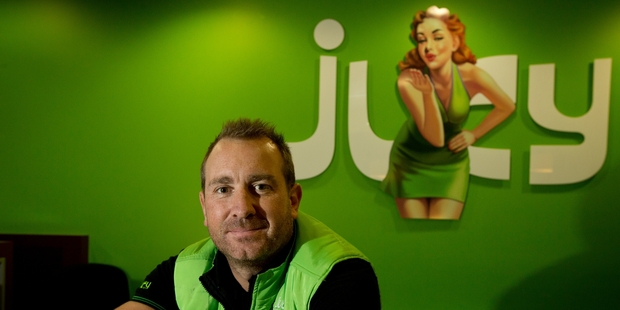 Tim Alpe was climbing the ranks at Tourism Holdings Ltd when he and younger brother Dan came up with an idea to launch a backpacker-focused car rental business.
It started off in 2002 as Ezy, but a letter from Easyjet owner Sir Stelios Haji-Ioannou persuaded the brothers to rebrand as JUCY in 2007.
And they've never looked back.
JUCY Group is now a global tourism company, operating car and campervan rentals, JUCY cruise, JUCY hotels and backpackers accommodation, the JUCY by Design manufacturing division and New Zealand's only car-share business, CityHop.
It employs more than 240 staff across New Zealand, Australia, Germany, the UK and the US with an annual revenue of more than $52 million.
The company's huge success and Tim Alpe's savvy leadership is one of the reasons the 39-year-old Aucklander has been named one of six Sir Peter Blake Leaders for 2014.
For Mr Alpe, who calls himself chief JUCYfier, the desire to be in business was ingrained in him from a young age.
"I always really wanted to have my own business and we spent our whole lives cleaning out campervans through school holidays because the old man started Maui Campervans back in the day."
That day was in 1981 and the old man was Chris Alpe, who eventually sold the campervan hire company to Tourism Holdings.
"It was kind of in the DNA to do it so we were buggered from the start."
Mr Alpe, a father-of-three, believes the company grew quickly on the back of a very clear strategic plan, key values, and making sure the right people were in place to help fulfil that dream.
These days there are continuing hurdles in the industry; until recently there were issues around freedom camping but this year tourist drivers are in the spotlight after a series of fatal crashes in New Zealand.
Mr Alpe believes the answer is education and JUCY is part of a think-tank group with the police and NZ Transport Agency.
In 2010 Mr Alpe was named Entrepreneur of the Year by Ernst & Young and now he helps to build future New Zealand business leaders through the Young Enterprise Trust.
"When I was at school there wasn't a huge emphasis on entrepreneurship.
"I was encouraged from my school to go straight to university and we used to call it LADS; you either had to be a lawyer, accountant, doctor, scientist or a sportsperson."
Mr Alpe did go to university but "wasn't very good at it" and left after two years to follow his dream.
"We need people who are out there starting their own business, who are employing people."
Being selected for a Blake Leadership award was humbling, he said, and he hoped to use it to inspire New Zealanders from all walks of life.
Blake leaders
Six talented Kiwis were given Sir Peter Blake Leadership Awards on Friday. The Herald is profiling each winner.
Tomorrow: Shoe designer Kathryn Wilson