Inequality is eating away at the trust in our neighbourhoods, replacing it with suspicion, writes Michael Neill.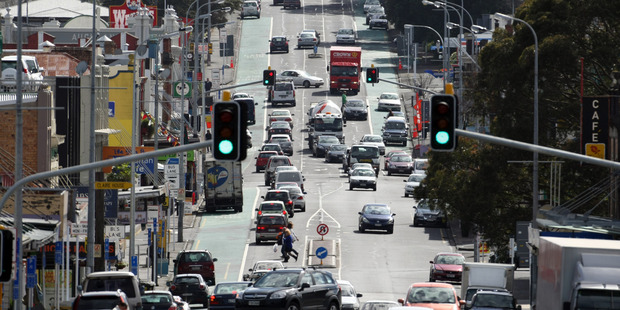 Some weeks ago I called in at the small liquor store attached to the dairy around the corner from our street. It was a place where I sometimes picked up a dozen beers or a modestly priced bottle of gin; and I always enjoyed my encounters with the owner, a rather brusque Chinese woman whose habitual severity was softened by a pleasant glint of humour in her eyes.
Now I didn't recognise the place: the counter had gone, to be replaced by a screen of steel mesh that barred customers from the body of the shop, allowing access only through a small hatchway, through which someone whose face I couldn't properly see glared suspiciously. I hadn't seen anything like it since, years ago, I stumbled by mistake into a bad area of Chicago where someone seemed to have shot out all the street lights. But here it was on Dominion Rd, in the middle of one of Auckland's desirable inner suburbs. Since then I've been thinking about what it meant, and I've begun to see a pattern.
Anyone who attended the recent University of Auckland Robb Lectures series on 'The Human Cost Inequality' will have been disturbed to discover that New Zealand, once such a determinedly egalitarian country, now stands high on the list of the world's most unequal societies. The impressive array of statistics demonstrated the range of ugly symptoms, including high rates of crime and imprisonment, that arise from the social stress of accelerating wealth gaps.
Most of these will have seemed worryingly familiar to New Zealanders, and all are related in one way or another to the debilitating decline in trust that seems to be an unavoidable consequence of increasing inequality. It is visible in most parts of Auckland, but nowhere more than in recently gentrified inner-city suburbs, like the one in which I live.
It's hard to believe now, but when I first came to Auckland in 1967, no one I knew even bothered to lock their doors before heading off to work. It was a matter of trust. Things had changed a bit by the time I moved into my part of Eden Terrace six years later; but in 1973 it still deserved the once evocative name of neighbourhood.
Although our street belonged to what was, by today's standards, a surprisingly mixed community, in both ethnic and socio-economic terms, the people who surrounded me behaved as neighbours and accepted me as one. Within a relatively short time I had got to know almost everyone who lived in the 30 or so houses at my end of the street.
The Neighbourhood Watch stickers visible on every window simply confirmed what everyone took for granted - that, without being intrusive, we would look out for one another; and when, a few years later, a group of us started a campaign to have an adjacent piece of wasteland made into a public park, we found we could also count on the friendly support of the wider Eden Terrace community. The fact that we all then belonged to the small borough of Mt Eden, rather than to an amorphous Super City, probably helped to foster this sense of common interest; but it was grounded in daily human experience.
Today everything has changed. The excellent local primary school that, when my children attended it, had an agreeably raffish air, is now full of children in smart uniforms; almost all of them are Pakeha, and the kapa haka group that was once the school's pride has disappeared. The locality of small villas that I bought into because it was the only place I could afford, has become a desirable quarter of refurbished "heritage homes", where land-agents' signs boast of grammar zoning and a "potential for entertaining" that seems to be a euphemism for showing off.
More and more of these properties are now walled off by the high fences that are replacing the original metre-high pickets.
Where the urban quarter-acre section once mimicked the dreams of a settler society, now it is as if the affluent middle class aspires to the luxurious invisibility of the ultra-wealthy: every man his own Fay, Richwhite, or Alan Gibbs. The new barricades won't keep out even a modestly ambitious burglar - they are more likely to offer convenient cover; but the message to the neighbourhood is perfectly clear: "I don't know you; I have no wish to know you. Please keep out!"
It is an irony that the first of these conspicuous barriers to community and trust was erected in our street by the Hell's Angels Motor Cycle Club - but they do, after all, own its most expensive property. I can now count little more than half a dozen houses whose inhabitants still behave as neighbours. Offer a casual "good morning" to other passers-by and as often as not they will pretend not to hear, stare fixedly ahead, or even quicken their step.
The Neighbourhood Watch stickers seem to have disappeared.
Perhaps the most obvious example of the way things are going is the new development on the corner of Kelly St and Mt Eden Rd, now glorified with the pretentious name of Kelly Street Mews. Once occupied by a training establishment for school dental nurses (an admirable expression of the material investment in community that once distinguished this country), it was purchased by the civil servant who had been charged with its sale.
In spite of the efforts of residents to turn it into a neighbourhood reserve, it passed from him into the hands of an entrepreneur who has transformed it into an expensive housing development. On it now sit seven of the 10 $2 million homes planned for the site. It will become a gated community, accessible only to those entrusted with the special codes that will open its iron gates.
Gated communities, those fortified bastions of privilege, deny the very idea of community to which their nomenclature pretends to appeal. But it is to developments like this that the old idea of neighbourhood with its relations of trust and casual amicability is gradually being reduced.
Much is rightly said about the plight of those whom the monstrous inflation of house prices has shut out of the market; but that is simply one manifestation of a growing inequality that is damaging the fabric of all our lives. Look at the fences.