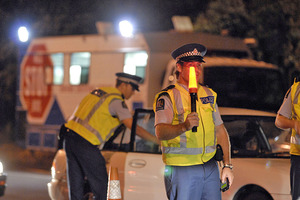 A repeat drink-driver caught at almost five times the legal alcohol limit, just months after driving at almost four times the limit, has avoided jail and sworn off the booze.
Auckland man Prashath Balasubramaniam was stopped by police just down the road from his Panmure house on the evening of January 2 after he failed to give way at a roundabout.
Testing revealed a breath-alcohol reading of 1918 micrograms, well above the limit of 400mcg.
That came just months after Balasubramaniam, 38, was pulled over on the afternoon of September 16, when he failed to stop at a stop sign.
That time his reading was 1564 micrograms. On both occasions he claimed to have drank two glasses of wine.
After his first court appearance on the January charge, Balasubramaniam told APNZ he had been to an all night party before he was stopped in January and had then slept the whole day before he drove.
He was heading to a dairy just down the road to fetch some milk. He said his wife was unable to drive because of a broken arm.
Getting caught was his catalyst for abstinence from alcohol.
"It's just water and lemon juice now ... This is the last time I'll drink and drive," he said.
Today he said he was relieved to not go to prison and he was now studying computer skills at university and still staying away from alcohol.
In the Auckland District Court in May, Balasubramaniam was sentenced to six months' community detention, 200 hours' community work, nine months' supervision and was disqualified from driving for a year.
In sentencing notes released this week to APNZ, Judge Stan Thorburn said he toyed with sending Balasubramaniam, who emigrated to New Zealand form Sri Lanka a decade ago, to jail.
But because Balasubramaniam had taken steps to treat his addiction, the judge kept him living with his wife and two children.
"The level of alcohol concerned is unquestionably of great threat to the public ? it being a merciful blessing that on both of these occasions there was no incident or accident involving other people," Judge Thorburn said.
"His problem undoubtedly is alcohol and of course his loss of judgment with regard to driving."
If Balasubramaniam successfully tackled his problems, the judge said he wouldn't expect him to be back in court before.
Aside from these "horrendous" readings, his only other conviction was also for drink-driving, seven years ago.
- APNZ