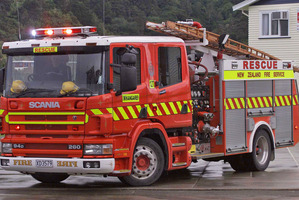 A Fonterra cheese factory in Taranaki was temporarily evacuated today following a small electrical fire.
Central fire service communications shift manager Dave Meikle said the fire occurred around 12pm and was confined to the roof of the Eltham factory.
The fire has since been contained and no one was injured.
A Fonterra spokeswoman said the fire was small and extinguished with a hand-held fire extinguisher.
The factory was evacuated after the fire was discovered.
"The Fire Service has given us the all-clear and the guys are back on site....we don't anticipate any further disruptions to our operations."
The factory predominantly made cheese, the spokeswoman said.
The Fire Service was also kept busy in Hawkes Bay today, responding to a fire in a 1000 litre bitumen tanker located in a contractor's yard in Hastings, Mr Meikle said.
The fire occurred around 2.20pm in the suburb of Frimley. No one was injured.
Meanwhile, a fire also broke out at the Tegal Foods building in Henderson, West Auckland this afternoon.
A spokesman from northern fire communications said it began after a fork hoist caught fire.
He said the fire was contained and and posed no threat to surrounding buildings.
- APNZ