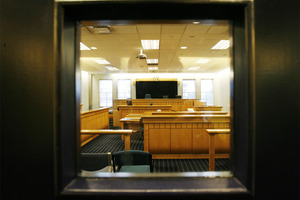 The enormity of offending against a law firm and some of their clients is still sinking in following the successful prosecution of one of their long term staff members in Palmerston North District Court.
Sharyn Joy Ada McFarlane started working for Edmonds Judd as a junior fresh from Te Awamutu College in 1973, aged 17.
She was promoted to office accountant in 1995 and last year was made redundant.
It was then the offending came to light -- almost half a million dollars -- after a client wanted to discuss their affairs.
The client had been told by the defendant only to deal with her.
McFarlane pleaded guilty to false accounting by an employee, theft by failing to account, theft by a person in a special relationship, using an altered document and two charges of false accounting.
It was alleged that in a 15-year period McFarlane stole $469,139.81 -- although the final amount is yet to be finalised.
Police said that despite the theft of such a large amount of money, the defendant was essentially insolvent -- heavily mortgaged, with significant credit card debt and little equity available to offer as reparation.
They said it appeared the money had been spent on her gambling and alcohol addictions.
Forensic investigators used Edmonds Judd's records to track offending back to 1998, although it is believed it could date back as far as 1988.
The summary of facts showed the defendant ran two ANZ Bank accounts, one for her regular finances and one for her offending.
It was stated there were 221 transactions where McFarlane would direct money over and above her wages to her account, transfer client funds to her account or take a portion of funds deposited to the firm and direct it to her account.
She was found to have used client accounts to also launder funds and would also create bogus client requests to release funds to try and cover her tracks.
The case was heard in Palmerston North, where she is now living.
She will reappear there for sentence on August 12.
Edmonds Judd managing partner Simon Brdanovic said McFarlane had been a long-serving and trusted employee and the offending came as a shock.
"We are, however, much more concerned at the impact that these thefts will have on our clients.
"Because of the complex web McFarlane wove around her offending, and because it went back so many years, we're still working with forensic accountants to ascertain how much was taken from whom and when," he said.
"We made contact with clients we believed were impacted at an early stage of our investigation, but as the forensic analysis has continued it has become apparent that those clients were not impacted in the manner thought, or possibly at all.
"While we remain anxious to contact affected parties, we must first ensure that we have a full grasp of the actual situation, including the amount and party involved.
"Once the investigations are complete we will contact anyone affected and remain committed to ensuring no one suffers any loss."
They will also continue to seek reparation through all avenues.
- Te Awamutu Courier