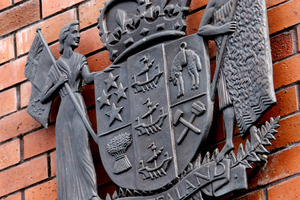 The sexual abuse claims of a boy had been "clearly vindicated" and a weight lifted from his mind, a judge said as he sentenced Auckland man Damien Robert Banks to 15 months imprisonment in Gisborne District Court.
Banks, 39, a business and projects manager in education, appeared on remand for sentencing after a jury convicted him in April on a charge of having sexual connection with a child aged under 12.
The jury heard Banks was in Gisborne on a work-related trip in in 2009, and was sleeping in the same bed as the complainant, and pulled the boy's shorts down and licked his bottom.
Judge Jonathan Down said the complainant was "stirring" and Banks pulled the boy's shorts back up.
The boy did not complain until years later because of embarrassment and because he feared no one would believe him. The complainant was unable to discuss the details of what happened to him.
That was common for young men who were victims of sexual offending, said Judge Downs.
The boy's father - in a victim impact report - said his son was no longer as happy and friendly as he had been before the incident.
His son had suffered in silence for years.
The pre-sentence report said Banks was at modest risk of reoffending.
The report said Banks' home and workplace were suitable for an electronically-monitored sentence, but it was up to the court to decide whether to impose home detention.
"I'm afraid I have concluded it is not in the interests of the emotional wellbeing of the complainant," said the judge.
A sentence of home detention would not be sufficient to meet the principles of deterrence and denunciation.
Defence counsel Adam Simperingham said employment was available for Banks if home detention was imposed.
Crown prosecutor Fiona Cleary submitted a starting point for sentencing of two years imprisonment.
The propensity evidence of a witness - a complainant in a previous trial where Banks was acquitted of sexual offending - should keep any discount in sentencing "in perspective", she said
Judge Down said he would not punish Banks for allegations for which he had been acquitted.
But the propensity witness (one who gives evidence to show a person's propensity to act in a particular way) had been credible and consistent.
Judge Downs said he believed the evidence of the witness had some effect on the jury.
Banks had no previous convictions and was otherwise of good character.
But he could not give Banks full discount because his lack of previous convictions had been somewhat undermined by other allegations made against him.
Judge Down set a starting point for sentencing of 18 months, and gave Banks a modest discount for his lack of previous convictions of three months for a net sentence of 15 months imprisonment.
Banks was also subject to 12 months post-release conditions, including being assessed for the Safe programme, and was ordered to take other programmes and counselling as directed.