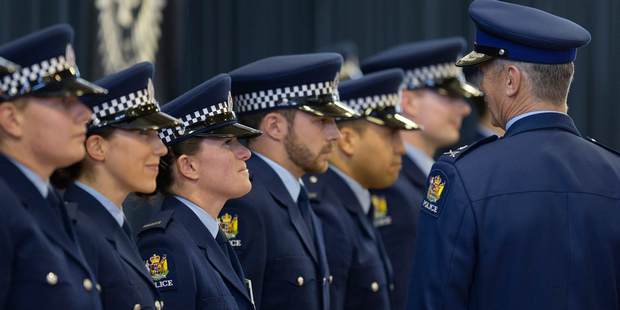 Watching some family members fall foul of the law and wanting to be a strong role model were motivations for former rugby player Tone Kopelani to join the blue line.
The new constable was one of 76 graduates from The Royal New Zealand Police College in Wing 284 today.
Their wing patron was former Air New Zealand CEO, Rob Fyfe, who acknowledged the hardships of the recruits being away from their families for the past four and a half months.
Mr Kopelani said he had long wanted to join the force.
"I've had family members caught up on the wrong side of the law and I've always had a passion to be a good role model, especially to Pacific Islanders in general."
His other passion, rugby, took top billing for 11 years while he played for the Crusaders and Hurricanes, as well as playing in France for four seasons for club CS Bourgoin-Jallieu.
"I thought maybe I need a bit of life experience before I join and I'm 36 now, so it's all worked out."
The overall top graduate of the wing, Constable Paige Jackman, made the move to law enforcement after gaining a law degree.
The 25-year-old was admitted to the Bar three years ago, but being on the police force was always her dream.
"Ever since I was at high school I wanted to join, but at the time I spoke to a recruitment officer who said 'Don't join straight from school, go overseas or go to uni'."
The biggest appeal for joining the force was becoming a good role model for others.
"I really want to work with children who have been abused and this is probably the best way to do it."
Ms Jackman also won the Mobility and Technology Award.
Another fresh recruit changed code after working in the Defence Force in the Army and Air Force for the past 13 years.
Constable Stacey Holvey was displaying medals from two Air Force tours in the Solomon Islands and Afghanistan.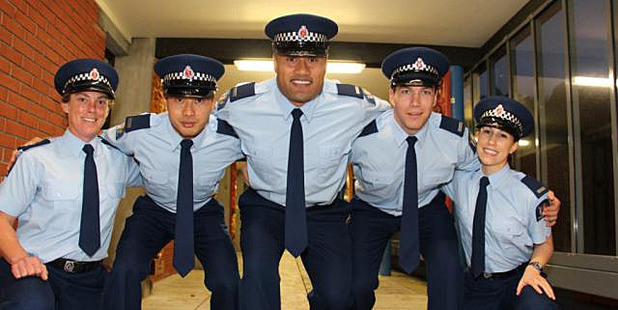 Constables Heney, Chueh, Kopelani, Green and Jackman are ready for the frontline. Photo / NZ Police
However, being in the police force was the "perfect job", she said.
"Because I'd done operational stuff in the Defence Force (overseas) and then coming over here, I could do that sort of stuff all the time."
Ms Holvey wanted eventually to work with young people.
"I couldn't think of a better job to do and I feel really lucky - there's so many people who want to be in my position."
Police Commissioner Mike Bush congratulated the wing on their career choice.
"You have chosen a career with absolute variety."
He encouraged them to look at the scope of positions the police force offered.
The graduates:
* Many graduates were born overseas, in countries including Korea, South Africa, Taiwan, Singapore, United Kingdom, Holland, France, Fiji, Philippines, Russia, Samoa and the United States.
* Where they will be posted:
- Northland (2)
- Waitemata (9)
- Auckland (11)
- Counties Manukau (11)
- Waikato (7)
- Bay of Plenty (4)
- Eastern (3)
- Central (7)
- Wellington (4)
- Tasman (5)
- Canterbury (9)
- Southern (4)
- APNZ